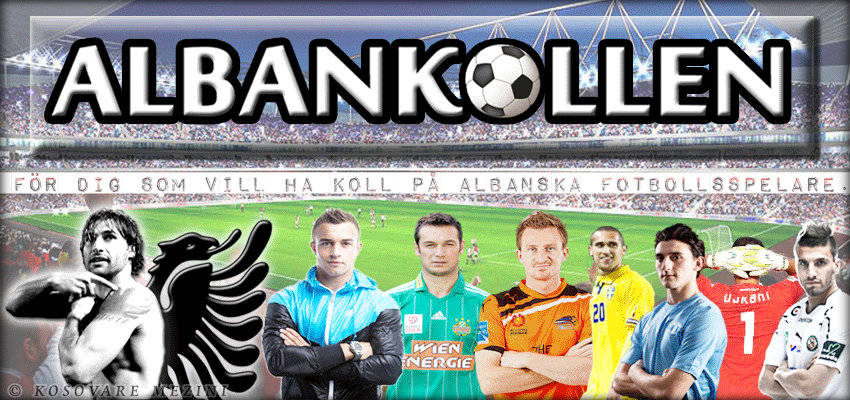 The football lady blogger: Kosovare Mezini writes about Albanian players from around the world
By: Albana Rama May 25, 2013
Kosovare Mezini is the young and enthusiastic blogger, the lady behind the Swedish blog Albankollen.se, dedicated toAlbanian football players around the world. Kosovare aims to finish her studies and then continue with football, but not only as a blogger. She would like to become a focal point for Albanian football. Kosovare adds "I also want to somehow be involved in developing football in Kosovo and Albania, and perhaps even help out out with building the national team. I'm passionate about football, and want to somehow be a role model for others. I want to show that it is not too late to start anything, to lave footprints in this planet.
Kosovare was born in 1991 in Kacanik, Kosovo, and moved to Sweden a year later with her family. Kosovare Mezini is a driven and ambitious person. When she does not blog about Albanian football players, she spends her time studying, and perfecting her dance valle (a local folk dance).
When asked about how she started Albankollen, she says that it all began after the World Cup 2010, immediately after she graduated from high school. "It started out as a normal blog," she says. She first started writing about football. But as she learned more and more about young Albanian players, she decided to focus her blog only on them. The blog then became Albankollen, and serves as a way for Albanians and Sweeds to follow the latest news about Albanian football players, who have began to join major European leagues at a greater number lately.
Kosovare Mezini also tells that another reason she started the blog was to change the image of Albanians in Sweden. She says "I wanted people to associate us with football. To show them (the Swedes) and Albanians how well we actually are doing." This is also why she decided to write in Swedish only, even though the audience is smaller then in English. Kosovare does not plan to publish her football writings in English yet, as she still feels new to the world of football.
Some of the young Albanian football players that Kosovare writes about are Xherdan Shaqiri of FC Bayern Munchen, Lorik Cana of F.C. Lazio, Valon Behrami and Blerim Xhemajli of FC Napoli (also playing for the national Swiss team). Other players include the Manchester United young talent of the year, Adnan Januzaj, who was given a number by Sir Alex Ferguson. The list goes on and on, with Hamdi Salihi playing in China, and Besart Berisha becoming the top scorer of the Australian A-League.
"Being a female and writing about football is not as easy as some might think," Kosovare says. She claims to receive a lot of criticism from the opposite sex, but it does not seem to have stopped her from blogging. The criticism has instead helped her with writing, and also developing as a person, as she has learned how to stand up for herself no matter the gender gap.
The devoted Kosovare Mezini talks about the long hours behind the blog. "Sometimes it's hard to follow all the Albanians. Nowadays they are many and playing everywhere. Had I written only about one team I then just had to follow the league, and that would be easy. But now I write about all Albanians which means that I have to keep track of all European and other leagues, as well as continent-wide tournaments throughout the year. It is definitely not easy, especially if I am the only one writing."
Kosovare wishes she had more time to blogg about all Albanian football players because there are so many great ones. Blogging is not something she does for fame like many might think, she says she does it for free and is something she have fought for. The blog has made her stronger and determined to not give up even though people do not agree with her.
All the hard work on Albankollen has paid off for her. She started with little knowledge about football, and about three readers per week. Now the number has risen exponentially. Albankollen has also 750 likes on Facebook.
When asked about if she always been interested in football, she replied: "Everyone has something they are good at, but I had nothing that people could associate me with. So I started to follow football the summer before I turned 18. It was 23 June 2009. I remember this date. I was watching the Swedish U21 national team play, for which featured another great young player of Kosovo origin, Emir Bajrami, who represented Sweden at the Euro 2012. That was the first football game I watched on television, and all of a sudden, I was fascinated by the game. How could a sport bring so much joy to so many people?" She continued, "This was the beginning of what turned out to be a great hobby for me, football." Kosovare continues, "All of a sudden, I saw myself waking up every weekend at 6.30 amto read about every football league in the world, where Albanian players may feature. And my friends were going partying instead.
When talking about being a Kosovar in Sweden, she says "that it can be difficult at times because people can be judgmental towards other nationalities. But she is grateful, and thinks that Sweden is a great country with very open-minded people, that have embraced Kosovo Albanians, who came to the country as refugees during the 1999 war." She also tells that their are many talented albanian football players in Sweden which makes it more fun to follow them up close.
Kosovare Mezini aims to finish her studies and then continue with football, but not only as a blogger. She would like to become a focal point for Albanian football. Kosovare adds "I also want to somehow be involved in developing football in Kosovo and Albania, and perhaps even help out out with building the national team. I'm passionate about football, and want to somehow be a role model for others. I want to show that it is not too late to start anything, to lave footprints in this planet."
To visit Albankollen, click here.
Twitter: @mezinibenzini