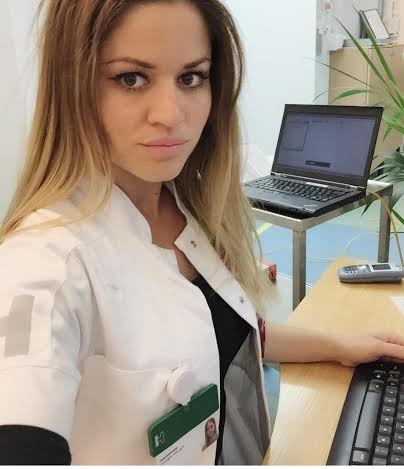 Drita Elezaj's Success Story in the Field of Medical Physics
By: Flaka Ismaili July 7, 2015
Born in Sweden to Albanian parents from Macedonia, Drita Elezaj decided to pursue a rather unbeaten career path—she decided to become a medical physicist. After obtaining a Master's Degree in Medical Physics from Lund University in Sweden, Drita started working at Harlev Hostpial. She commutes daily, one hour each way, from Sweden to Denmark where her job is located.
Drita interacts daily with cancer patients. Her job duties include quality assurance of the treatment machines and optimizing the planning of radiation treatments for patients. As a medical physicist, Drita is also responsible for the development of new treatments. Being involved and invested in this aspect of her job, in 2012 Drita participated in a conference organized by the European Society for Therapeutic Radiology and Oncology. She focused her research on how tumor shrinkage and weight loss affects the treatment plan for a specific treatment technique. Her study was presented as a poster and ultimately won the conference's Best Poster Award. Additionally, Drita Elezaj's has been featured in different journals and participated in several different conferences and professional meetings in different European countries.
In addition to an impressive career, Drita is a wife and a mother of two children. Being married to an Albanian from Kosovo, Drita says that educating her children about the Albanian roots, culture, and language is something of a high priority for her. In attempt to keep them familiarized with the culture, she tries to take her family to Kosovo at least once a year. Drita thinks that Kosovo's beautiful nature and the peaceful feel that the surrounding mountains provide are additional incentives for her visits.
Drita's love for Kosovo transcends simple visits. She explains that radiotherapy is, unfortunately, non-existent in Kosovo right now, and the patients have to travel to neighboring countries for their treatments. But, should the opportunity be given to her, Drita explains, "…I hope that in the near future Kosovo will establish a radiotherapy department, and, then, if there is any possibility, I am willing to help and cooperate."