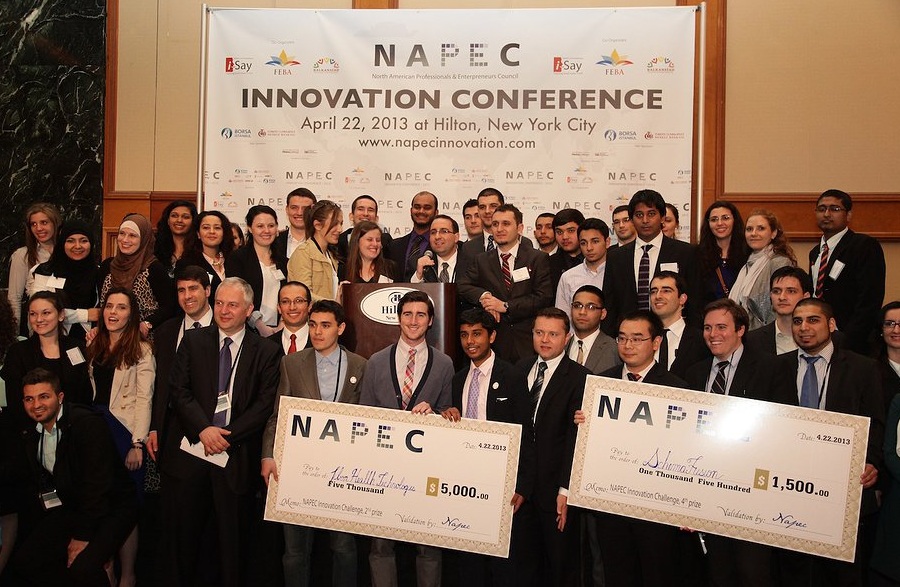 NAPEC – a way to Network, Learn and Share Experiences
By: Liza Gashi April 1, 2014
The North American Professionals and Entrepreneurs Council (NAPEC) is a network for professionals and entrepreneurs providing networking opportunities within the business community. Some of NAPEC's founders are of Kosovo and Albanian origin. In 2013 NAPEC was featured in Forbes Magazine and it was referred to as a "don't miss" conference.
NAPEC was established by a few professionals, entrepreneurs and academics, who were active in their  communities and professions. One of the founders, who is with origin from Kosovo, is Erdoan Shipoli, the current CEO of NAPEC.
NAPEC co-founder Shipoli explains that the focus was on addressing barriers faced by many Albanian business councils and professional networks when trying to funnel real world opportunities back to their respective communities. He further explains: "we become limited to our own network and unable to open our community to all of the opportunities and resources that are out there for them to succeed. We need to find new ways to "plug in" our communities into the larger professional and entrepreneurial networks that exist in the vast and, at times, intimidating business world." Other community based business and professional networks (in the US) had similar problems, and we saw the need of brining Balkan, European, Asian, African professional communities together. NAPEC, as a global platform, provides exactly that.
NAPEC Innovation Conference New York 2014 is a leading conference for small and medium enterprise (SME) innovations for sustainable growth, showcasing leaders in business growth and development. This prestigious annual event brings together entrepreneurs, academics, students, international experts, business support organization representatives, stock exchange and financial institution executives, policy makers, and international agencies involved in small and medium-sized business development. NAPEC Innovation conference 2014 has been designed to focus on the key areas SMEs need to invest in, in order to grow and sustain their businesses. Distinguished business leaders will convene to brainstorm some of the challenges related to business start-ups as well as elaborate on best practices within the SME sector. The conference aims to facilitate conversation that focuses on the key growth areas in small businesses, including finance, product development and technology, bringing together industry leaders in major fields of sustainable development, to educate and inspire leading entrepreneurs, SME owners and professionals who are growing their enterprises using the latest strategies and technologies. This NAPEC Innovation Conference will be held in Manhattan, NY in April 12, 2014 and it will host over 500 attendees from all over the world.
Another NAPEC Innovation conference 2014 will be held in Chicago in April 18, 2014, which will host over 500 attendees from all over the world as well.
Opportunities with NAPEC:
NAPEC Innovation Conference offers prime opportunities for networking as well as establishing new contacts and business linkages. There are various opportunities to do reconnect and network:  NAPEC Innovation 2013 Alumni Virtual Networking Event, NAPEC Innovation 2014 Pre-Conference Virtual Networking Event, and Networking at the Conference event.
​During the Executive Forum Speaker Series a cocktail session for senior executives will be held where they will have a chance to explain their profession, organization and industry to young professionals.  Young professionals have the opportunity to gain valuable insights and network with individuals with similar interests.
The Professional Development Workshop equips young & experienced professionals alike with the tools necessary for success in any professional or business atmosphere. Synergy's goal is to provide tools that will prepare individuals for challenges in their fields.
The mission of the NAPEC Professional Clubs is to serve this generation of professionals and to foster the next generation by promoting innovation, cooperation, fellowship and growth.