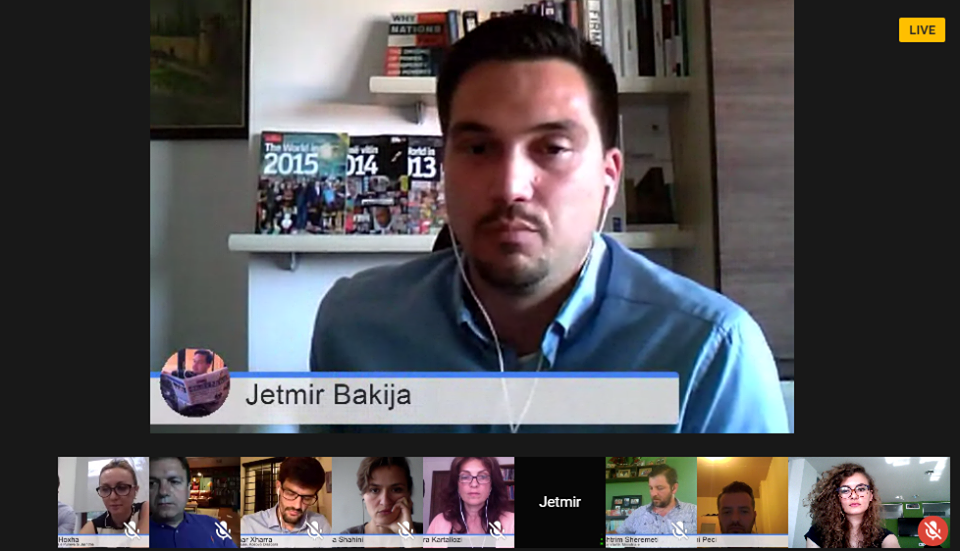 2nd Global Virtual Meeting Discusses Diaspora Politics
By: Valon Xoxa June 15, 2015
The second virtual diaspora meeting, held on 6th of June, has set a hallmark of milestones to be reached in effort of coordinating institutional and civic diaspora activities.
Join us live in 50 minutes! #Kosovo #Albania #DiasporaHangout https://t.co/ReLawwK8bw

— KosovoDiaspora (@KosovoDiaspora) June 6, 2015
This was an event that brought together Diaspora members and representatives of governmental institutions and civil society representatives from Albania, Kosovo, United States, Norway, and Bangladesh, with live Q&A session. The topic was "Diaspora Engagement: A Source of Policy Making in Albania and Kosovo." The list of participants was comprised of important figures from the government, business and civil society: Vlora Çitaku (Kosovo Consul in NYC), Besa Shahini (Senior Analyst at European Stability Initiative), Kushtrim Sheremeti (Kosovo Ministry of Diaspora), Indira Kartallozi (Director at Chrysalis Family Futures), Avni Mustafaj (Executive Director at National Albanian American Council in Washington D.C.), Jetmir Bakija (Project Manager at Kosovo Democratic Institute in Prishtina), Donika Hoxha (Director at MFA Albania/Public Diplomacy, Partnerships and Diaspora Department), Adi Hoxha (Desk Officer at MFA Albania/Public Diplomacy, Partnerships and Diaspora Department), Nuhi Peci (Albanian Student Association Norway), and Behar Xharra (Founder of KosovoDiaspora.org).
Mr. Behar Xharra, founder of KosovoDiaspora.org, emphasized the purpose of the platform, that is, publishing positive achievements of Kosovars in order to present Kosovo and its diaspora community in a better light. Furthermore, Mr. Xharra explained how the Kosovodiaspora platform has developed over time into an important diplomatic component connecting Kosovars living abroad.
Ms. Vlora Citaku, Kosovo's consulate in New York City, explained the importance of both Kosovar and Albanian Diasporas in identity building and defining the path to Euro-Atlantic integration. "Right now Kosovo and Albania need to take the positive experiences diaspora whether in education, economics, and other guidance."
Mr. Kushtrim.Sheremeti, advisor at the Kosovo Ministry of Diaspora explained the progress of Diaspora strategy that has been developed by this ministry. He also talked about the importance of diaspora engagement and stated "the engagement in the decision making processes has always been crucial, not only in the political aspect but also for economic and cultural development."
Ms. Donika Hoxha from the MFA Albania/Public Diplomacy, Partnerships and Diaspora Department, added, "The Albanian diaspora has been the foundation stone of the Albanian statehood. So far we have only looked at diaspora through the financial perspective, the time is now that we utilize the true power of our Diaspora, we should invite their ideas, beliefs and practices."
For Besa Shahini from the European Stability Initiative, true and rightful treatment of diaspora and its potential is attained through political power. "2000 votes from previous elections is a mere fraction of the true voting potential of our diaspora. The reasons upon why the number is so low are many, however, the root of the political power drains of Kosovo's 90s diaspora comes from the following: 1. The Kosovar Diaspora is not engaged in political parties as much, Given that 52% of the votes have gone motion of self-determination and it has made this a sense of frustration of the governing parties about how what they have done so far. 2. The diaspora no longer is funding political parties, thus are unable to dictate the agenda within the parties. "
Jetmir Bakija from the Kosovo Democratic Institute in Prishtina emphasized that current policy making has made it impossible for the diaspora to participate without being physically here, thus a more holistic approach through enabling the diaspora to participate without its presence would greatly benefit policy making in general. "Kosovo government should allow greater involvement of the Diaspora therefore be given a wider space with policy making, as well as provide mechanisms for involvement from outside." Concerning the idea of involving the diaspora in political parties, Mr.Bakija added that "political parties have created division lines among the diaspora community, thus a possibility of brining the diaspora closer to policy making through organizations and associations would serve as a pressure group in positive terms to influence the decision-making here in Kosovo".
NGO Germin organized this discussion forum in partnership with the International Organization   of Migration (IOM), the United Nations Development Office (UNDP) and the Kosovo Ministry of Diaspora (MoD).
Germin is an  NGO that uses technology to connect and support the Albanian Diaspora communities with their home countries. Germin has founded and manages the www.kosovodiaspora.org, a crowdsourcing digital engagement platform for Diaspora.