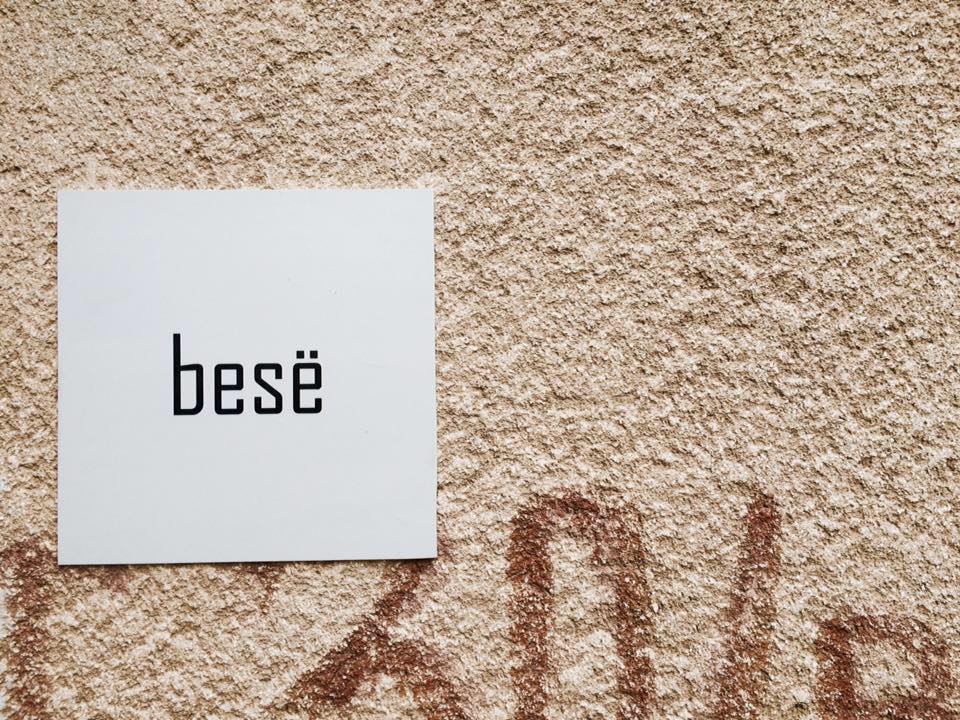 From Kosovo to New York, Besa brings authentic designs to the fashion world
By: Kosovo Diaspora October 3, 2016
Besa Neziri Rugova is a fashion designer from Kosovo whose work is characterized by a modern take on traditional elements. After finishing her studies at Parsons School of Design in New York and working at various fashion labels, she launched her own line in 2013. Besa describes her designs as "dreamy, ethereal, whimsical, feminine silhouettes." Her signature touches are sheer fabrics such as silk organza, tulle and hand-made lace.
The following is an exclusive interview with Besa for KosovoDiaspora.
KD: Can you tell us a bit about your background and the work you do?
Besa Neziri Rugova: I graduated from Art Academy in Kosovo with a major in painting, before I attended The Parsons School of Design in New York, where I received a degree in Fashion Design.
After graduation, I worked in the fashion industry with various labels – where I gained a comprehensive knowledge on garment making and the business side of the industry. This really helped build the confidence to start my own line, something that I always wanted and dreamed of. In 2013, I launched my own line here in New York – with a small capsule collection. Since then, I have been expanding and evolving, as designers do.
Earlier this year, I opened up a studio in Prishtina, where I not only do my production – but I also have a curated showroom where I present my work, and meet clients. I also have private clients, for whom I do custom work as well. At the same time, I'm continuing my work in New York, and gathering inspiration and ideas that feed my artistic soul.
KD: What are some of the projects you working on now?
Besa Neziri Rugova: I just finished up a photoshoot for my new Spring/Summer 2017 collection here in New York, which will be in the store soon.  I have also started working on my Fall/Winter 2017 collection – by putting together my moldboard and initial rough sketches. Beyond that, another ongoing project, which is not that closely related to fashion, is coming to an end soon. I will disclose more information on that in the days to come. I am also back to school to get certified for bespoke men's tailoring techniques, and I am absolutely in love with this class and learning so much.
KD: How do you see the art and design scene in Kosovo?
Besa Neziri Rugova: I think there are a lot of talented people in Kosovo, but succeeding there is still mostly contingent upon connections rather than merit, which troubles me. While being well connected is an important factor anywhere in the world, it shouldn't be able to entirely substitute talent. I would love to see this change – and for young, fresh, talent to find more opportunities to present their work. Another challenge I see, quite often actually, is a lack of authenticity when it comes to some fashion designers in Kosovo. I have noticed a tendency to copy other's aesthetics and ideas, rather than creating ones own. This is something that I find refreshing in New York- the underlying respect in the design community for individual authenticity and allowing others to retain their own ideas for themselves.
Maybe some fashion industry professionals, offering valid, authentic, unbiased critique- is needed to alleviate the above mentioned problems. This could really help improve the overall quality and respectability of the fashion scene in Kosovo.
KD: What are some of the challenges you face as an artist from Kosovo?
Besa Neziri Rugova: To be honest, I never faced specific challenges related to my Kosovar origin. On the contrary, I always felt and feel welcome, and people are genuinely intrigued by our history and country here in the US. In school, I did struggle a bit initially when I got here, due to minimal computer skills, poor English, and the challenges of adapting to a different school system. However, overall, being from Kosovo and another place in general, I really feel like I've come to develop a unique style, based on my native culture intermixed with the creative inspiration I access day to day, everywhere I look, being in a city like New York.
KD: How can diaspora members help better the image of Kosovo?
Besa Neziri Rugova: I think we are on the right track here, especially when it comes to the younger generation, represented prominently by Dua Lipa or Rita Ora. It's important to lead by example, conveying proper values and authentic talent as the key to success, no matter what field you may be in.
To see more of Besa's designs, check out her Instagram or Facebook page.