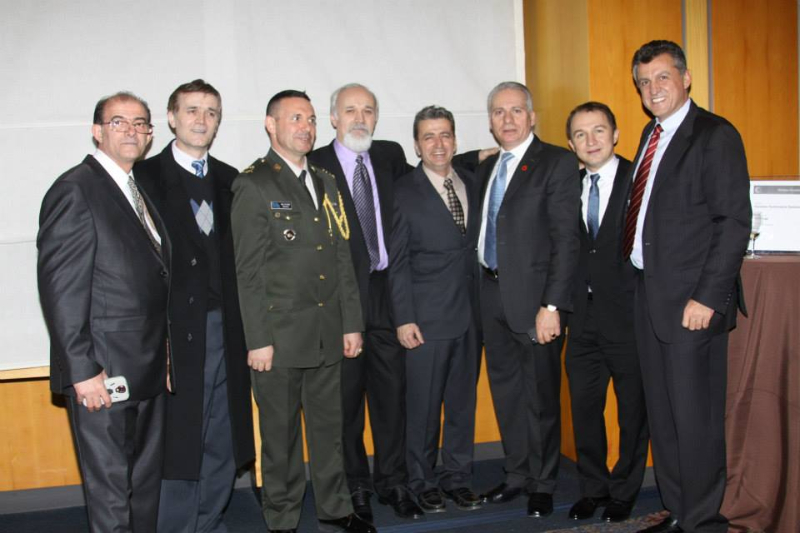 Kosovo Consulate Marks its 6th Year in New York
By: Valon Xoxa February 19, 2014
The Kosovo Consulate in New York City celebrated the sixth year of Kosovo's Independence with high end participants such as the prime-minister Thaci and Frank G. Wisner. Other guests included : religious leaders of all three faiths, friends and contributors to Kosovo, foreign ambassadors,  officials from various international organisations and eminent community activists.
The event was hosted by a number of staff members and consulate officials, starting with the Ambasador Bekim Sejdiu, Consuls Korab Mushkola and Xhavit Gashi and the Military Attache at the Embassy of Kosovo in the United States. The numerous hosts were lined up at the entrance to greet the guests, where the Kosovar flag was set next to the United States' stripes and stars. Hundreds of guests decided to honor the occasion and many came from outside the state of New York.
The welcoming speech was held by the RTK journalist Sulejman Gashi who welcomed the guests and expressed the importance of this date."Sx years ago, when on 17th of February 2008, at the Kosovo Parliament, we had the solemn session that without a doubt has been the most important session in the whole History of Kosova. The people's elected officials took upon the sacred duty of creating an independent country, the highest of political organization. The creation of a country was an agglomeration of ideals, sacrifice and hard work of many generations"
The original article was posted at Illyriapress.  Click here to read the original article.