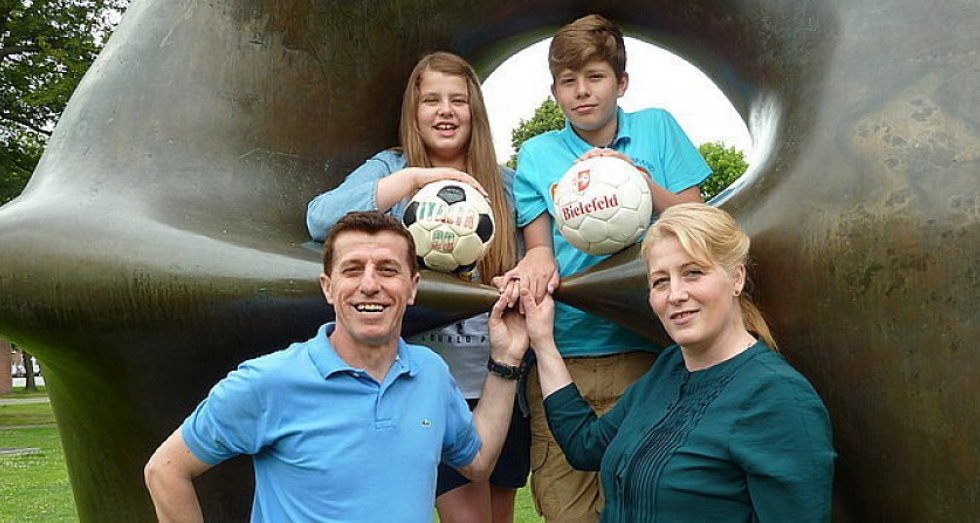 Kadri Bekteshi: Multi-volunteering in Germany
By: Albina Makolli March 16, 2015
Many people owe thanks to Kadri, but now it's his turn to say thanks. He is thankful for his family's patience and support throughout his work as a volunteer. In the past years, Kadri Bekteshi left his family aside, in order to help others in need.
Kadri was born in Kosovo and has been living in Germany for 22 years now. He studied Tourism and Economy in Sarajevo. Shortly after obtaining his degree, he moved to Germany and started his first volunteer position. For the German Red Cross, he taught English classes to other refugees. Kadri speaks Serbian, Albanian, Macedonian and a bit of Italian, and of course, German. Up to this day he has been active for the German Red Cross in helping refugees from the former Yugoslavia.
Volunteering keeps him very busy. He is engaged as mediator in a soccer club, helps refugees on behalf of the German Red Cross, leads a football group for kids with a migration background and recently became part of the jury in his Bielefeld's district court. "I owe much to Germany, that's why I want to commit myself to this country. But without my family, this is not possible," he claims.
Mr. Bekteshi encourages everyone to take part in voluntary work: "Get involved in voluntary work. It is a profession that gives you a lot and you get to give too." It is of special importance to him to getting to know each other. He believes that this is what brings people together and leads to a healthy integration of people in different countries where they live and work.
Since 1994, Kadri has worked in the city hall of Bielefeld in the department for speed control. However, this job is not as exciting to him as the voluntary work. He is truly passionate about the ability to help others and thankful for the full support from his wife and kids.
You can read more about Mr. Bekteshi in the original article published in German.