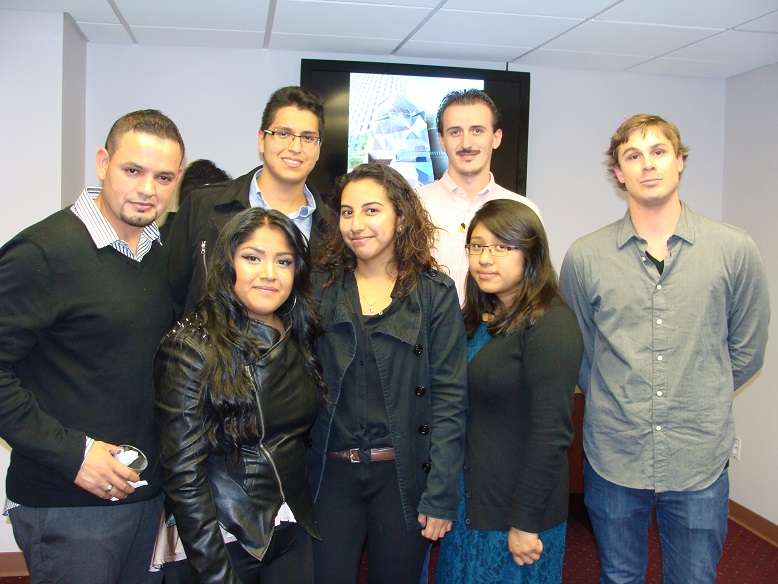 Future Albanian-American Architects – Present in New York
By: Kosovo Diaspora October 21, 2013
Albanian-American students from across the northeast and other students from the New York City of Technology displayed their work at the Second Annual Student Exhibition organized by the Albanian American Architecture Society at the Kosova Consulate General.
Professors Mars Podvorica, Ermir Gjoka and Florim Kukaj teamed to get these creative works displayed. The first part of the exhibition showcased work of Albanian-American students with different types of buildings. The second part of the exhibit displayed work from Podvorica's own students of different backgrounds who created concepts for an Albanian community center in honor of Albania's 100 years of independence. "Our mission is to locate, gather and promote Albanian-American architecture students studying in the sates," Podvorica said. "Most of them had really amazing work." More than a dozen students had their work on display. The Albanian-American students came from architecture programs in New York City and Boston. These projects came from school assignments.
Florian Gjoka showed off a concert hall for children. While being a community center, it also had to be profitable. He combined a music center for teaching with a larger concert area. Gjoka, who attends to the Spitzer School of Architecture in New York, grew up around blueprints. His father is a structural engineer, so he spent his childhood looking at concepts that turned into actual buildings.
"I helped my brother out doing drawings and models too," said Gjoka, 25, who lives in the East Village section of Manhattan. "I didn't know what I wanted to study and this seemed like a good fit. I've always been good at it." He stood next to his display throughout the night as the visitors of all backgrounds gathered to take a peek at the work. At the height of the exhibit, there were about 60 people crammed into two rooms appreciating the work the students put in. "We are trying to create bridges among us, among people in the construction business and those in the architecture field," Podvorica said. "I felt honored every week to go to my class and see the work (of my students). Being part of culture it's not always easy to find an open door, but Ambassador Bekim Sejdiu did that for us without any question."
Podvorica's classes consisted of about 100 students. He decided to change the syllabus for the 100th anniversary of Albania's independence. He had his students create an Albanian community center in an empty lot in upper Manhattan. The students researched Albanian culture and created designs for buildings based on different themes such as dance, hospitality, the "City of a Thousand Windows." "This is a real-life challenge, how do you design for a particular client," Podvorica said. "They had to start with strong research to understand the culture. They had to learn their story and what they do. Within that they found their little niche. It was a challenge for them, but I am proud of the work." Podvorica displayed seven of the buildings out about 100 for the showcase. "The purpose of the project was to celebrate the 100th year of independence," said Shenier Torres, 31, of Queens who focused his building on Albanians' love of dance. "It's exciting to show your ideas and see if other people relate. You find out if we were successful or not. In my case, I knew already about the Albanian culture. What I chose was the dance was because Albanians love to get together and do that. I had to study more into it. They don't dance as one. They dance as a group. "
Nataly Belliard was inspired by the hospitality Albanians show. They offer anything they can to guests and help their neighbors. Her building design was a reflection on that with the building resembling pineapple, which is a universal symbol for hospitality.
"They are a very united culture," Belliard, 19, said. "They give anything to anyone who comes to their home."
The original article was posted at the Illyriapress.com Click here to read the original article.