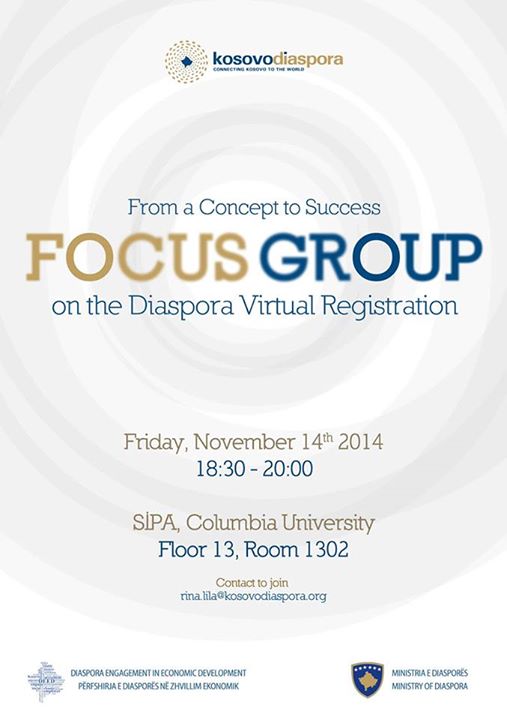 From a Concept to Success: Kosovo Diaspora Focus Group in New York
By: Valon Xoxa November 12, 2014
Join the discussion forum that will bring together New York-based Albanian business and civil society leaders to discuss and develop ideas that will make the  Diaspora Virtual Registration platform a success.
The event will be held on November 14th, 2014 from 18:30-20:00 at the School of International and Public Affairs ,Columbia University. Floor 13, Room 1302.
The discussion aims to firstly introduce the project to our Diaspora and familiarize them with the potential outcomes of Registration. One of the goals of the Registration of Diaspora refers to utilizing the Diaspora Registry in order to establish evidence-based policies in Kosovo and address the needs and concerns of Diaspora worldwide. Secondly, it seeks to enhance communication between the Kosovo government and its Diaspora. The Focus Group shall also cover the importance of the registry in the lives of the Diaspora members, the privacy of the information, as well as other means of registering family members.
Most importantly, this meeting seeks to take ideas and opinions of the members of our Diaspora regarding ways to promote the Diaspora Registry effectively, address areas that need improvement and examine ways in which the project could enable the Diaspora influence the policy making process in Kosovo.