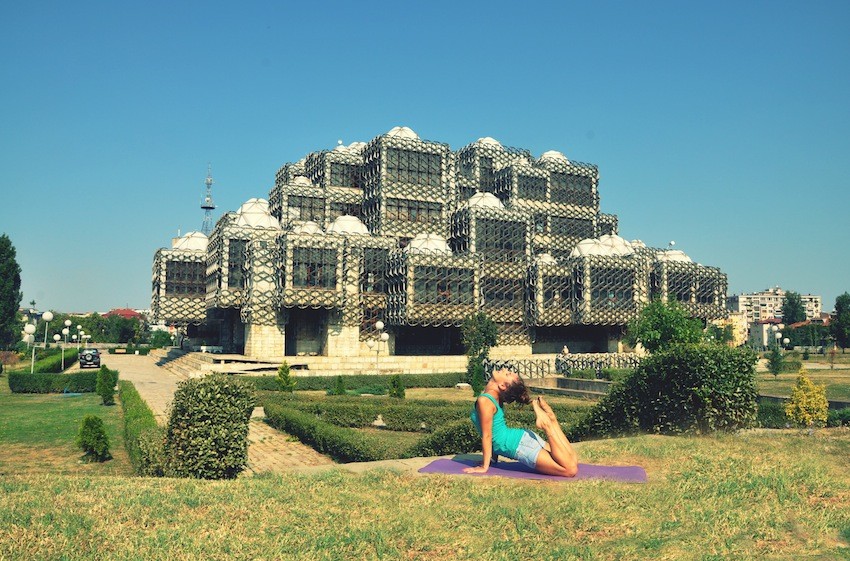 Annea Hapciu: Branding Kosovo through Yoga
By: Liza Gashi September 23, 2013
Trying to promote healthy living, awareness, and eco-friendly behavior in Kosovo, Annea uses her yoga skills to promote Kosovo positively abroad. 
Annea Hapciu, also known as the founder of N'Yoga, was born and raised in Prishtina, Kosovo. Miss Hapciu has a scholar background in business administration, entrepreneurship and marketing at the University of Dayton (UD) in United States. While at UD, she was chosen to promote her university by writing blogs at mylife.udayton.edu/annea. She also used this opportunity, to write about life in Kosovo and reflect on how life changed from year to year, whether it is in terms of infrastructure, green spaces, roads, overall societal changes, or simply the change in mentality.
Upon entering her first year of undergraduate class, she was among the thirty elite students who were part of their four year experience at UD. They had to go through rigorous scholarly seminars. In their last year of undergrad, they also had to create an original piece of scholarly work and publish it. Annea dedicated her undergraduate thesis to the analysis of "The Internal Effect of the Kosovo the Young Europeans Nation Branding Campaign on the Kosovar People, which was published by www.fes-prishtina.org". A manuscript of her thesis "Internal Effects of External Country Branding on Entrepreneurial Interest: The Case of Kosovo" is for review at the International Marketing Review.
Apart from her school work, she was practicing yoga while at UD. When asked when did yoga came into play Annea explains that this was as a way to stress relief from her studies, daily engagements, work and other extracurricular activities, she used to do yoga at UD.
When in Kosovo, her friends and family expressed interest in learning yoga and encouraged her to start instructing. Upon receiving her certification, she created her brand N'Yoga, which translates to In Yoga" and has been instructing yoga in Kosovo for the last nine months.
While trying to promote healthy living, awareness, and eco-friendly behavior in Kosovo, she also uses this opportunity to promote Kosovo positively abroad. She hopes to shed light on the dim image that we as a country and people have received due to our unfortunate historical circumstances.
Moreover, she has done a collection of picture with different Yoga position. Annea explains that the idea for taking the following pictures around Prishtina, the capital of Kosovo, came about from this very desire: to use yoga to promote the good and the beautiful of my country, Kosovo.
Annea's last project was "Yoga in Kosovo" and it was published by MineBodyGreen where she showcased twelve photos of historical and cultural monuments of Prishtina.