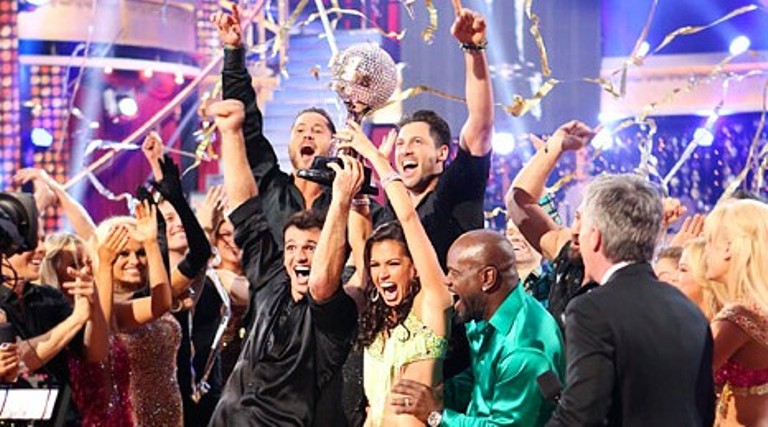 Albanians from Kosovo conquering Americans' hearts one dance at a time: the Tony Dovolani effect
By: Kosovo Diaspora December 2, 2012
Tony Dovolani is the winner of the Dancing With The Stars – All Stars. The finale was America's most watched show of the season. Licia Cleaveland, a grandmother of three from Clayton, Georgia, shares her love for Tony and the pure joy for his win. Tony, born in Kosovo, is undoubtedly, one of the best ambassadors of Albanians abroad. He is a true champion of the dance and of the small nation.
By Licia Cleaveland
I wanted to shout to the world MY TONY WON!!! Yes, last Tuesday night was one to remember for a lifetime. My Tony finally won Dancing With The Stars (DWST).
I first saw Tony Dovolani about fifteen years ago as I was watching an International Ballroom Championship competition. It was the Latin finals. I was just dazzled by this man who was sooo sexy, I found myself watching him instead of his partner. I made a point to memorize his name and to continue to spot him at other competitions. Did I mention I love ballroom dancing?!
So on with my story. When DWST debuted on ABC, I signed up for life! What a great first year. Little did I know the best was about to come. The second year opened with introductions and I nearly fell off the sofa – Tony Dovolani was on DWTS and I could see him every week.
Life could not get better than this!!!Then slowly reality set in….if he didn't get a great partner people would never get to see his "stuff". It seemed like forever, and then Season 8 arrived. Tony and the talented Melissa Rycroft were great. At last my Tony was shining, and everyone was watching him and then his beautiful story ended in third place.
I was so sad. So close and yet so far. I continued to watch for years, I have never missed an episode of DWTS. And this year I hit the jackpot–my Tony got his talented partner (Melissa Rycroft) back, and everyone got to see his real talent!
There is a funny little "we are all connected" backstory in connection to MY TONY. My daughter and son-in-law were posted in Kosovo shortly after the war. My daughter taught English as a second language, and found a wonderful young man she thought would be an excellent exchange student for his last year of high school.
Enter Behar Xharra to the Cleaveland (our) family. That was the fall of 2002. I know of Tony. He is another Albanian and a great dancer! That is the first thing I told Behar upon meeting him at the airport. Of course, as soon as DWTS came on, I had Behar in front of the TV introducing him to his fellow compatriot.
Now fast forward to the spring of 2012, Behar was about to graduate from grad school (he was so charming, we just couldn't seem to ditch him and now he has "favorite child" status), and Behar is putting on a special gathering of Albanian diaspora in New York. And you guessed it, he meets in person MY TONY!! My life is complete ….my two favorite Albanians are now friends!!!
Licia Cleaveland lives in Clayton, Georgia , USA. She is a grandmother of three, a Life Master at Bridge, a hat collector, and a professional at Feng Shui. She has visited Kosovo in 2002, Tony's homeland, and has hosted and supported a student from there throughout his secondary and tertiary studies in the United States.
Licia has recorded the DWST Finals show! She gets to watch Tony and Melissa Win everyday now – it just puts a great big smile on her face. Pure JOY!!!
********
Video segment from the DWTS Finale 2012
Tony Dovolani and Melissa Rycroft live at Jimmy Kimmel Show. Tony wishes all the Albanians Happy 100 Years of Independence