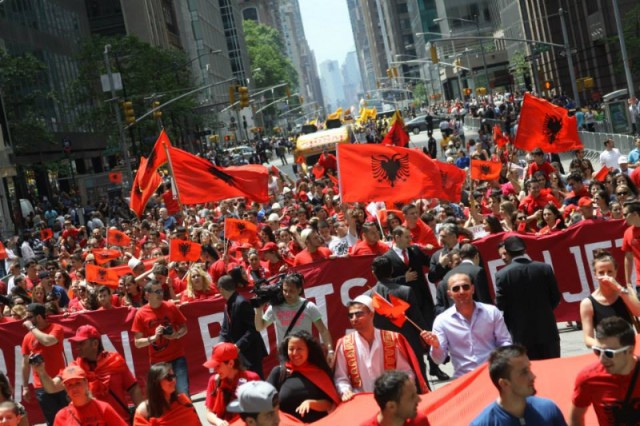 Albanians at the New York Emigrant Parade
By: Valon Xoxa June 24, 2014
On 21st of June, New York City held its annual International Emigrant Parade, a parade that gathers hundreds of participants from 10 different communities inhabiting this great city. During the event, the participants show their cultural heritage by dressing in ethnic clothing. This year marks the 30th parade where groups from diverse communities bring the unifying character of America. 
The Albanian section of the event has been organized for the 5th year in a row by the "Albanian Roots". At the parade, the Albanian community presented its cultural pride and heritage, traditional clothing, folk music and traditional dances; all in all, it is an entertaining event for the thousands of by standers who chose to stay and watch the parade.
The greatest addition to the festivities are the children, especially the Albanian children born in the United States. Each and every child part taking in the event has represented a piece of Albania: Tirana, Durrësi, Shkodra, Vlora, Korça, Fieri, Lushnja, Elbasani Berati, Tetova ,Dibra, Ulqini ,Tuzi, Prishtina, Gjakova and Prizren. The "America" square was covered in red and black, flags everywhere and one could hear the sounds and dances of Albanians.
The pictures are the best indicator of the red and black river that covered the parade on 21st of June.
Check out a youtube video from the actual parade:
The original article was posted at illyriapress.com– Click here to read the original article.