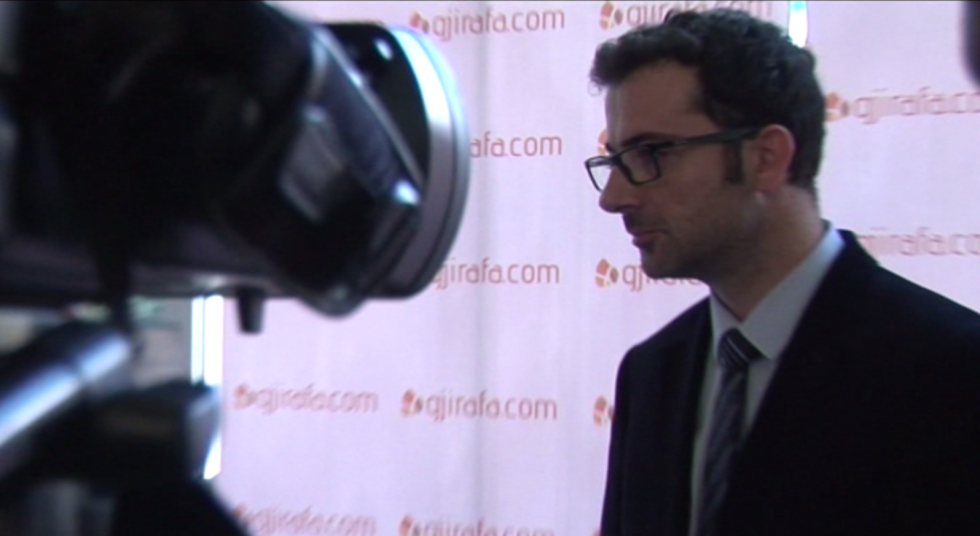 Mërgim Cahani: Back to Lead Albanian Digital Presence Online
By: Nol Sahatçiu March 27, 2015
Mërgim Cahani is a serial Diaspora entrepreneur, who returned to his birthplace Kosovo to found a number of technology and application ventures and spearhead the young country's road to tech industry development.
Cahani is  the founder and CEO of Gjirafa, a full-text web search engine and a news aggregator specialized in the Albanian language. He is also the founder of iziSurvey, an online and offline custom survey creator, and the CEO and founder of Phronesis Technologies. Cahani finished his Masters in Computer Science at the New York University, and BS and MBA at St. John's University in New York. He returned to Kosovo to contribute to the social and economic development of his native country, and tells us about that decision in the following Q&A between Kosovo Diaspora and him.
KD: What should we know about Mërgim, as a person who left Kosovo, only to come back to contribute to his native country?
MC: Just like many others have returned – after being a student in the United States or elsewhere abroad – I too, after 8 years of education and over 5 years working (all in New York), I decided to come back to the motherland. There are many reasons why I returned – but the main one for me is: if I am going to focus on my profession and give my contribution to the community anyway, why not do it in Kosova. I think – while others may disagree – tech entrepreneurship opportunities in Kosova are better. So far the reality has met my expectations in Kosova. The success of Gjirafa.com so far shows that.
KD: How beneficial and challenging was the decision to come back to Kosovo?
MC: There are challenges of course, but most of them are opportunities. Challenges are present in almost every dimension: company operations, management, and infrastructure; then there are challenges in the product development, finding talent, and funding; of course there are challenges in the product usability, user behavior, and business readiness for new tech opportunities and products. So traditional strategic management and previous world-wide case studies do not exactly apply in this business environment, but with a small modification and creative thinking, they do wonders. It keeps our team on our feet at all time, it is dynamic, and it is a lot of fun.
KD: How were you affected by your time outside Kosovo in expanding your worldview and deepening your conviction to come back home?
MC: Naturally it did have its impact. As a high school student in Kosova, I was one of the last generations to attend a clandestine schooling system; going to houses as classrooms and running from the oppression as kids, as if it were a hide and seek game. It was difficult, but it did help me and those generations to be stronger and look at things differently. During my freshman year in New York (NY), where I was able to walk freely with my schoolbag on my shoulders, it simply felt great, really great. I bet one does not hear that very often and in fact it may sound strange to many. Thus, living in the US for over a decade, I was exposed to how things and life quality should be (at least some things). It allowed me to learn and build life expectations for myself and the community, and provided me with the belief that everything is possible given persistence and perseverance. If you can think it, you can make it.  That is the US thinking that I took with me.
KD: Kosovo is building its reputation as a state through technology. Social media have begun serving as a tool for engaging the citizen and digital diplomacy. Our platform Kosovo Diaspora is built on this foundation. What do you think of the potential that Kosovo has for focusing its capacities in building a positive image through digital diplomacy?
MC: Kosova is progressing at a fast-pace on technology innovation. In Kosova currently you have products, and innovative companies that compete on a global level with technology giants. I also think the same holds true for Albania. Our countries have started to change the global image, we are more than what the global media write primarily – we are more than the 90's news. My personal experience also shows that as soon as you mention Albania or Kosova to the international community, at first glance, one does not receive a very positive image. But with time and work this is en route to change and will continue on the years to come. On the other hand, digital diplomacy plays a vital role in promoting our reputation as a nation. So far this has developed very well, as one can visibly notice from KosovoDiaspora.org.
KD: What is the potential that digital platforms hold to enhance cultural, social and economic growth in Kosovo?
MC: Although I partially answered this above, I think the easiest way to promote our country as an emerging economic market is through technology. In this field we are not limited by borders and other boundaries; there is no segregation. We can have a global reach as we have already started doing so.
KD: What would you say to the Albanian diaspora?
MC: Albanians living in the diaspora need to be in closer relations with recent developments in Albania and Kosova. Things have changed and have started to take a turn. There are opportunities here that could be of interest to them as well. Not just for the sake of contributing to the motherland (as many Albanians from the diaspora have done so and continue to do so), but also there are unique opportunities here that are rare to find in other markets. They should come and meet with people who are working together as a team and aiming to have a global impact. I bet many doors are open to join ventures with potentially high returns. It will happen, and I say (a statement that I hear often from many VC investors in the US): "don't become a series B investors" (see Facebook investment phases to get a better picture of this statement).
KD: Is there something you would like to add?
MC: Yes. I wanted to mention Gjirafa.com, which is the first and most prominent Albanian Language Search Engine, quickly becoming the premier service for Albanian's worldwide. Gjirafa, Inc., is a US corporation with offices in Kosovo and soon looking to expand to Albania and Macedonia, but it was built by Albanians for Albanians. Thus, we are always excited to receive feedback and suggestions from Albanians world-wide. Therefore I ask the Albanian diaspora to contact us with any suggestions or feedback, we will be very happy to hear from you and will respond.