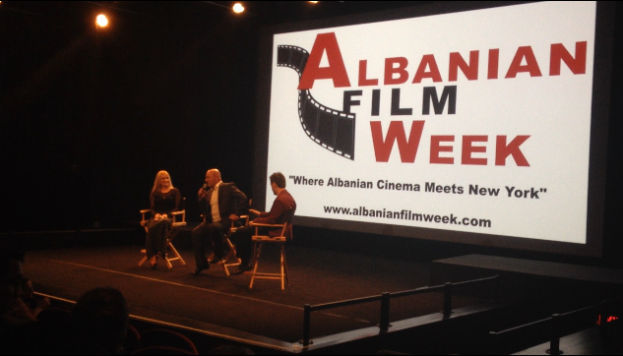 "Agon" – provoking emotions and controversies
By: Qëndresa Krasniqi November 11, 2013
The Albanian Film Week in New York successfully started off with a full house for the screening of "Agon" written and directed by Robert Budina. "Agon" brings the struggle of two Albanian brothers who migrate to Greece in the mid-2000s. "Two Albanian brothers, Saimir and Vini, migrate to Greece and try, each in his own way, to integrate into their host country by following two different lifestyles, with no way of turning back". (AgonFilm)
The controversial topic of "Agon" galvanized clashing impressions amongst Albanians of New York who watched the film from very different perspectives. "We have better topics to target as a nation" is argued by those who are determined that everything we publish needs to be used towards improving Albania's image in front of the world. It can also be argued that in response to the superabundant negative portrayal of Albanians by the foreign media, we need to show the world our values and beauty instead. The foreign media has degraded Albanians in different ways through many productions; reinforcing such an image is the last of our duties. On the other hand, "Agon" is about love, family and human struggle and it does not necessarily aim to portray a nation. "It is a very personal story", the director Robert Budina explained during the Q&A of the Albanian Film Week in New York. "I have been an immigrant in Italy for five years and I have separately met all the characters of the film" Budina continued.
The outstanding performance of Guljem Kotori brings a very enticing and belligerent character, who is not interested in his brother's way of making a living and frankly even disconcerted about the consequences of his actions. The character of Vini brings a story of love and sacrifice that goes beyond a mere story of immigration. The struggle of the two families goes beyond representing an ethnic group. "Agon" shows the dissension of those who look for a better life in a country that merely offers it. Nevertheless, it doesn't target immigration itself. Nor does it aim to speak for a country's image. It is the outstanding direction, the captivating storyline, and the phenomenal performance (Eglantina Cenomeri, Xhevdet Jashari, Antonis Kafetzopulos, Isabella Kogevina, Guljem Kotori, Marvin Tafaj, Laert Vasili and Hajrie Rondo) that represent a very high quality of Albanian cinematography while starring a very personal story. No art without controversy has ever made a meaningful impact. "Agon" raises many questions, dilemmas, conflicts and it does it beautifully while capturing the human emotions during hard and struggling times. The combat between good and evil prevails throughout the whole film and it provokes the audience in various ways.
Due to the vast interest of the audience,"Agon" will be showing again on Tuesday, November the 9th at 20:00 in Producers' Club Theater in Manhattan.  For more information, please visit the official page : http://albanianfilmweek.com/event/tuesday-e-marte/.