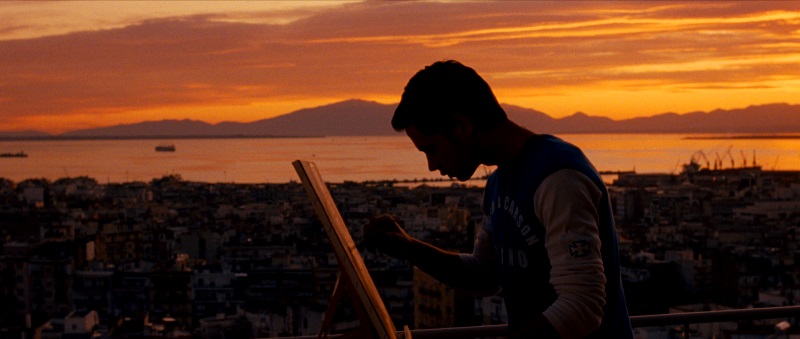 "Agon" aims for Oscar
By: Kosovo Diaspora December 22, 2013
Synopsis: Two Albanian brothers, Saimir and Vini, migrate to Greece and try, each in his own way, to integrate into their host country by following two different lifestyles, with no way of turning back. Saimir is trying to build a new life with his Greek fiancé, Elektra and also look after his younger brother Vini.  Vini, who feels under his brother's control, does not forgive Saimir for his life choices, thus becomes a victim of the underground world in hopes for quick easy money. The story takes a turn when Vini falls in love with the wife of the mafia boss. An impossible love with tragic regrets and unspeakable measures. How much pain can the human spirit endure before it breaks and ceases to trust, love and hope again?
Recent Screenings: The Samuel Goldwyn Theatre, Berly Hills, CA, SVA Theatres, New York. Upcoming Screenings: Romania, France
Albania's Academy Award 2014 selection "Agon" by Robert Budina is an ideal top winner for four categories: Best Picture, Best Actor, Best Director and Best Adapted Screenplay. Budina's Agon sold out movie theaters across United States and around the world for the debut screening in over 15+ prestigious festivals including Hollywood, Chicago, Arizona, France, Poland, Kosovo, Albania, Egypt, Shanghai, Athens, Rome, St. Petersburg, Vienna, New York, etc.
Given all the high praise the movie has the received and all the prizes Agon has already won – "Best Screenplay" by See a Paris (South East European Film Festival); "Best Actor" by Guljem Kotori and "Best Film" of Bloody Hero International Film Festival in Arizona – this incredible film deserves to win an Oscar.
Agon deserves all the awards it can get its hands on including best picture for its outstanding high quality and cinematography. An incredible production collaboration between the superb team of producers: Sabrina Kodra (Albania), Lilette Botassi (Greece), Dan Burlac (Romania) and Guillaume De Seille (France) that delivered an exceptional quality film surely make Agon a potential Oscar favorite for best picture.
What makes Agon worthy of best director and best screenplay is its exemplary writer and director Robert Budina. Already a legend in theater and short films the award-winning Robert Budina is an incredible and visionary director, who dares to create masterful pieces that are unforgettable.
"I am honored and I appreciate to be chosen for such a prestigious event, the Oscars. Agon has been screened world wide. Critics in LA praised it and loved the movie. It is a big responsibility to represent my nation in this prestigious and historic event, and I am happy to be among the best filmmakers to be chosen by the Academy Award. It is a testament to the hard work put to it. Agon is a very daring project, and I thank the entire cast and crew for making my vision come true with this film," said award winning director of Agon, Robert Budina.
The most interesting part about this movie is that not only do you fall in love with the outstanding acting of all the main characters ; but you also find yourself falling for the villain. The bad guy, played beautifully by great actor Xhevdet Jashari became your favorite character. All actors were amazing and stood out for the emotions they brought on the bring screen, such as: Marvin Tafaj, Guljem Kotori, Isabella Kogevina, Eglantina Cenomeri, Xhevdet Jashari, Laert Vasili, and Antonis Kafetzopulos.
Agon is a powerful story about unwritten cultural ways of living that lead to conflict. The film is about integration efforts woven into the larger risks of cultural clash. This thought-provoking drama by the brilliant Robert Budina is not a story about immigration, crime or mafia, rather people's efforts to build a life around two completely different cultures – the preexisting norms one brings versus adapting to the new customs of another community. While Saimir tries hard to fit in by earning an honest living and adapting to the new culture, his younger brother Vini feels alienated in the foreign land. He resists changing habits and behavior because he thinks he lost the trust of the dearest person closest to him and is not respected at the work place. Therefore he feels the need to man up and prove himself.
Agon is hailed as groundbreaking film-making, pioneering techniques that epitomize the perfect artistry in the film industry. Combined with superb acting of a very talented cast, a powerful script and brilliant directing, Agon showcases Albanian talent at its best.