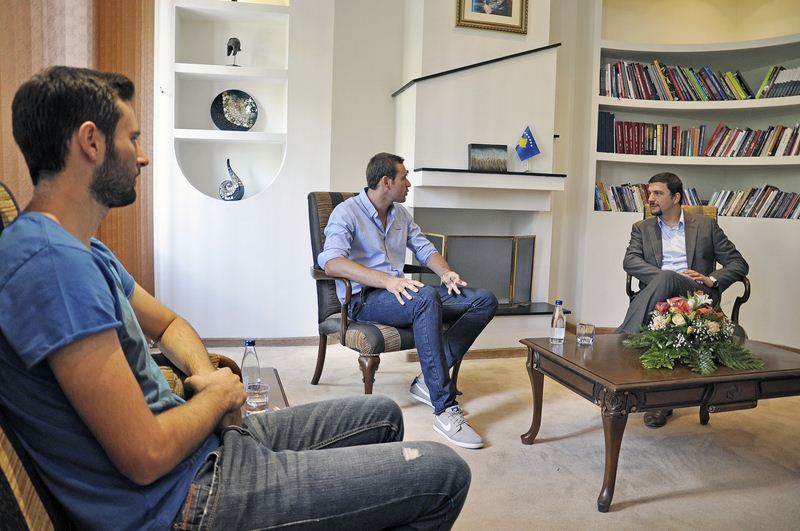 Gazmend Husaj: A Kosovo Volleyball Success
By: Liza Gashi August 13, 2013
The Ministry of Culture, Youth, and Sports welcomed renowned Kosovar volleyball player Gazmend Husaj. Husaj is the first Albanian volleyball player to sign a contract with a foreign team, competing with the Copra Elior team in Piacenza, Italy. He recently transferred from Qatar Sports Club to the Italian team, competing for Series A of Italy, a premiere world league. He has also played for clubs in Kosovo, Albania, Switzerland, and Bahrain.
Gazmend Husaj began playing volleyball at a very young age, and he has traveled many places, playing for professional teams in Albania, Macedonia, Switzerland, Bahrain, and Qatar before transferring to Italy. During his time in Qatar, he became the team's season top-scorer for two seasons in a row.
Minister Krasniqi congratulated Husaj on his athletic endeavors, as well as his numerous achievements as a member of the Albanian national team. The minister also encouraged others to follow Husaj's commitment and motivation when seeking success in the sport, on both professional and individual levels. The success of Kosovo's volleyball players continues to improve the country's international image, bringing it one step closer to international sports.
Husaj thanked the Minister for the reception and expressed his gratitude for the interest showed regarding his career. He then congratulated the Minister for all the work he has done to promote Kosovo's sports.
The original article was posted at The Ministry of Culture, Youth and Sports webpage. Click here to read the original article.