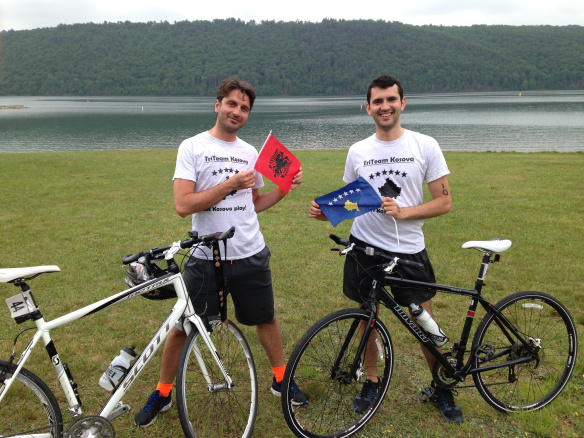 Kosovo Wants to Play: We are triathletes!
By: Kosovo Diaspora June 2, 2015
(original article published in TriTeam Kosova)
Conception in circa early September of 2014:
As with most of everything, it all started as a sweet joke followed by a jolly laughter ending in a high degree of skepticism. Yet, an ardent determination was brewing. Grossly paraphrased, the conversation and the rest of it went along these lines: "It sucks, Kosova and its athletes cannot compete internationally. No Olympics…no Rio 2016 either. They're deprived of the right to be athletes outside of Kosova and we can't be their cheering fans. Darn, that's really bad & sad. We must do something. Anything. 5 cents is better than nothing. But, please not just empty words but concrete actions! [mind light bulb flashing] …there is this neat Kosovo.2.0's campaign #KosovoWantsToPlay aiming to be the voice of all Kosovar athletes in their plea to gain recognition, respect, and support from the international sport entities. We can help. Let's walk the talk. First do a 10K run and then if we're alive complete a triathlon! Pause. Yeah, right! Ha Ha Ha. Wait… this is serious as there is a "besa" (promise) involved. We're in to win."
Mid-Way:
As Kosovo started gaining recognitions into various international sport committees, including the Olympics, #TriTeamKosova made good friends with sore muscles and sweat.
Flash fast-forward to the very late May of 2015:
After last minute preparations, packing and an initial luring of a great friend also named Alban [ #TriTeamKosova temporarily became  #TheDoubleAlbanAndRilindTeam] we drove about 4 hrs from Washington DC to Beltsville National Park in Pennsylvania. Sitting on the grass, we tried to wipe off the sweat and listen attentively to the main organizers of the Black Bear Triathlon, sharing info about the race, the bike and run courses as well as possible challenges by Mother Nature (a of a lightning storm forecast that thankfully did not materialize). Our initial butterflies in the stomach had mutated into full-fledged scary dragoons. A waterfall of doubts poured down into streams of "Are we ready? What If? The swimming… transition…the biking…then the running…we have no clue…we should and could have done this?…" A long and deep breath and a genuine desire, excitement and commitment to finish the race cleared away the clouds of doubt and brought the rays of "yes we can" sun! We're ready and so going to do this!
The Next Day:
The hundreds of participants from all walks of life got us truly pumped, intimidated and yet very inspired. An army of returning and aspiring triathletes accompanied with family and friends filled the park. A basket of human energy to warm a city. All equally wanting to "dare the bear": swim in the beautiful lake surrounded by lush greenery and bike and run through picturesque yet challenging hills and fast descends. Age, gender, race, status… turned out to be truly meaningless. With the assigned numbers 10 and 44, respectively, we were placed in the first wave of swimming. Feeling somewhat silly and awkwardly captivated in our wetsuits, before we knew it we had joined the school of human fish and were giving our best to push forward and rush for the bike course. Time, speed, and competitive drive were of importance but we had opted to focus on and enjoy as best as we could the entire journey. We felt dizzy after finishing the 750m swim.
Walking towards the transition area we took our time to get out of the sticky wetsuit, grab a sip of coconut water and start a lengthy love affair with our bikes. We were off in the bike course accompanied by encouraging words from our friend and other sleepy yet energetic folks nearby. The recently rained road pavement, road bumps here and there, along with the sharp hilly ascends and pretty scary descents gave us chills and a tons of sweat and pain and memories filled with fear and bravery.  Not to mention the changing scenic scenery, the evasive sun, threatening clouds and loads of humidity. The 18 miles (approx. 29km) of the bike course was miraculously completed.
Tired but triumphant we jumped into the 3.1 miles (approx. 5km) of the run course through the seducing woods along the Beltzville Reservoir. Before reaching the halfway mark of the course we started thanking our mind and body, all the loving, generous and kind people who orbit our galaxies and warm our hearts. All those who helped us train and support us. All those who believed in us. We left the FINISH line  newborn, with a flashy black bear medal, cheers and oblivious joy and pride. Our final times were 1:58:14.8 and 2:11:47.0, respectively.
We'd like to dedicate this journey to all those existing and aspiring athletes from Kosovo and the rest of the world who use sport to prove that sky is the limit, peace & humanity is the way, and life is precious and must be fully lived.
p.s.: Tempted to do a triathlon? You should definitely give it a TRI! Check out these triathlon beginner's tips!