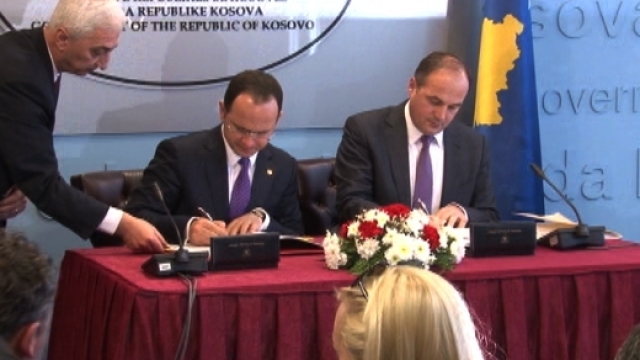 Kosovo and Albania merge consulates in search for a united representation
By: Valon Xoxa March 17, 2014
Foreign Ministry heads, from both Kosovo and Albania have recently signed an agreement in favor of merging consulates in Milan(Italy) and Canberra (Australia). 
Foreign Minister of Albania, Dimitri Bushati has been paying a visit to his fellow minister from Kosovo, Enver Hoxhaj, whom together signed the agreement. During the meeting, both ministers have discussed the benefits that the diaspora community would gain from the unified presentation of both Kosovo and Albania. Thus, through this step, giving momentum to enhancing a long term strategic partnership.
Both representatives have given their opinion on the impact such an agreement will have towards the European path of both countries. "It is a highly important step, such agreements lead towards a more stable region and with a growing positive influence of Albanian factor and orientation towards European integration" said Mr. Hoxhaj.
While at this stage, the project foresees the merging of consulates only in Milan and Canberra, it is crucially important that such steps are taken in other countries too. The unified representation will  lead towards a growing efficiency and cultural unity among the diaspora abroad.
The original article was posted at Panorama.com.al Click here to read the original article.