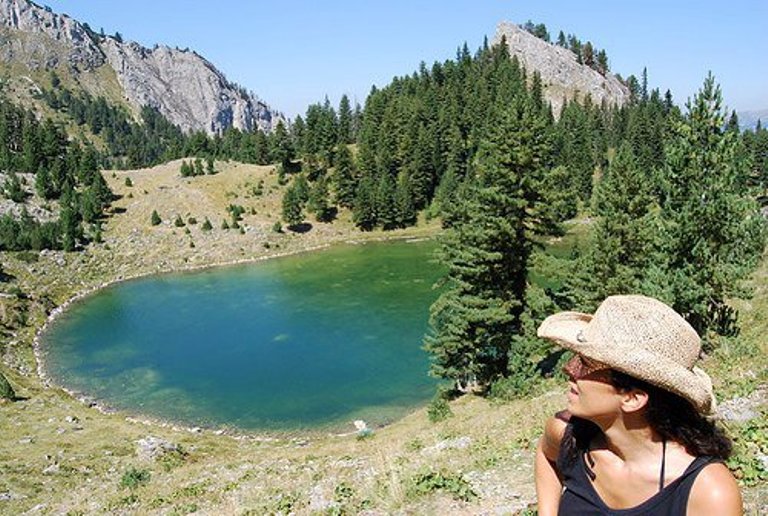 Indira's story – A woman entrepreneur and mother
By: Albina Makolli March 10, 2014
Born in Peja but raised in Prishtina, Indira decided that the situation in the early 90s became too dangerous for her and her baby son. So, she headed to the UK thinking she'd stay a few months. 22 years later she still finds herself in the UK. She has become a successful entrepreneur in social work and is a caring mother to her three kids.
Indira Kartallozi is a founder and director of Chrysalis Family Futures. Chrysalis Family Futures provides legal advice and advocacy, family support and training as well as consulting to professionals and organizations that provide support to families with specific needs. Recently, Indira has also started a position as senior welfare rights advisor at the Haringey Migrant Support Centre. The support center covers a broad spectrum of migration issues, such as immigration advice, services of welfare and health issues, reducing social isolation, providing a hub for social wellbeing and activities.
When asked about what brought her to the UK, Indira explains that during the late 80s and early 90s she was a young person living in Kosova, with ideals and hope for equality and justice. "With Serbians and Milosevic coming to power these ideals started crumbling. I was active in opposing the injustice and rules imposed by the regime but life became difficult and dangerous. I also had my first baby son, who looked so frail and tiny in the midst of the chaos, oppression, fear and violence. We left Kosova to spend a few months in the UK thinking that the situation could improve. 22 years later I am still here!"
Indira's work in the UK has been always related to migrants, asylum seekers, refuges, their families and children. "I worked for a homeless charity project for a very long time, developing my career to the point of becoming a senior welfare rights, housing and immigration advisor." She worked hard and gained back her identity and confidence to fight against social and economic inequalities, injustice and violence. With a wealth of experience, Indira decided to leave her secure job and founded Chrysalis Family in July 2012. "Registering a company was the easiest thing to do, the hard work is keeping up and dealing with the challenges that any company might have. It was a learning curve but I've become patient and Chrysalis is gradually becoming stronger. "
Regarding her passion about neglected population groups, Indira explains that her passion for justice and equality has always existed. "Simply, this is who I am. My experience in the UK can be described as a rollercoaster of challenges, my identity, belonging and my settlement in the UK. Hence I can relate to the experiences of migrant families in the UK."
Indira has a Master's degree in Refugee Studies. Initially, she had not planned to become an academic but her thesis and research received substantial interest. "It's relevant to the current UK austerity measures and their impacts on vulnerable families. So my plan is to do both, continue with my groundwork as well as continue to carry out research that is relevant to my work and Chrysalis Family Futures." Moreover, thanks to her recent work experience and studies, Indira has discovered her love for teaching and sharing her knowledge. "In fact, I love it that I get the opportunity to guest lecture at the MA students at the School of Law and Social Science, University of East London and I hope to be able to do this more often. I was lucky to be able to travel and compare other countries legal and family supporting systems and I wish to expand my work and research in other areas in Europe."
Some time ago, Indira had an article published in an Albanian speaking newspaper in the UK  ('Fuqizimi' i gruas apo burrit). Her motivation on writing the article was frustration. "I have a problem with this theory of empowering women! It's everywhere. Of course it should happen, but what about men? Is it not the time to get Albanian men involved into this? Teach and educate them. I have been a single mother of three children for few years and during this time I had to ensure my kids are fed, housed and got the education. Working full time, sometimes two jobs was hard but this alone would not have been difficult if I did not have to deal with the prejudice and often-discriminating remarks and comments. At no point I was encouraged or congratulated for my efforts and my resilience and endurance. So, in this article I want to show solidarity to all the women out there who did just the same. And I think it's about time that Albanian society changes their perception. We need to empower both men and women!"
Apart from her professional engagements, Indira is very active outdoors. Her day starts with a walk in the nearby park. "I love nature and make sure I spend a lot of time outside. I play tennis, squash and yoga. Somehow a combination of these activities keeps my stamina up. But reading and socializing is a big part too. I'm always up for a challenge or an adventure!"
When asked about "our" diaspora, Indira finds that "women have a secondary role in our diaspora. But I see it changing. My wish is to connect with Kosova once Chrysalis is strong enough. I want to develop and collaborate with other similar organization in Kosova or Albania. However, things are different there so I'm gradually learning."
Indira's family, friends, history, childhood, Kosovo's landscape and nature is what connects her back to Kosovo. She wants her three kids to be similarly connected to Kosovo, so they make sure to visit often.
Indira would like to influence change. "My 15 year old daughter said to me recently that all Albanian women should be feminist. This made me secretly proud. So, I want more women out there to do think this way. I want women and young girls to stand up for themselves, for their sisters, daughters, mothers and grandmothers. To young females out there do not be influenced by glossy magazine photo-shopped models, hair extensions, fake nails, eyelashes, dowry and flashy parties. Invest in your future, education and most important your independence. I'm happy to say that I see more and more Albanian women doing just this. This is where the change will come from."