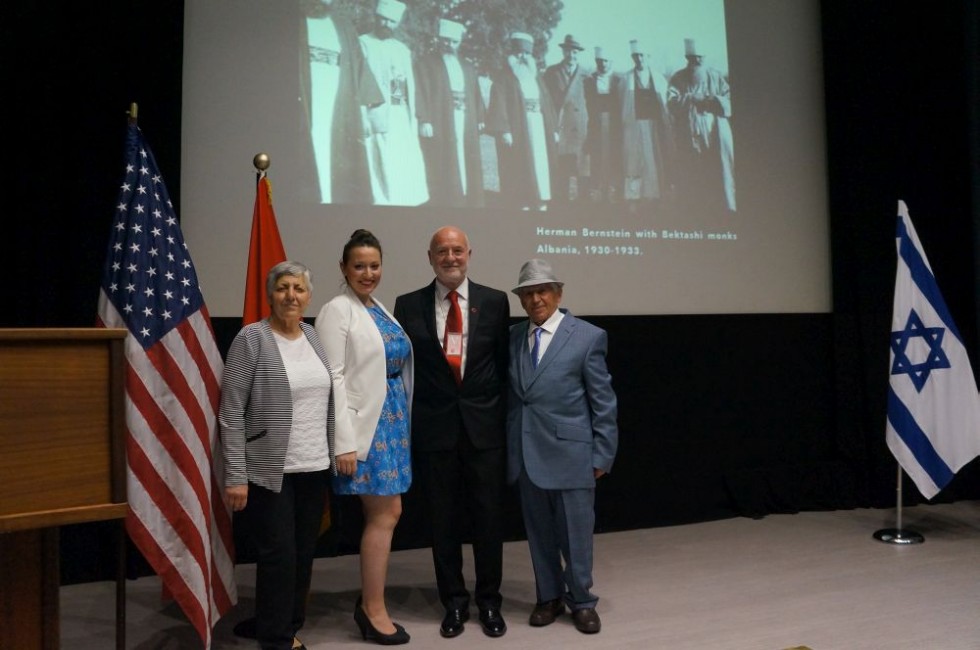 Cultural Diplomacy: The Albanian-British Festival of Culture held in London
By: Kosovo Diaspora June 15, 2015
The Albanian-British Festival of Culture held key events across London from May 28th to July 4th 2015. The annual festival hosted by the Albanian Embassy in London, brings together cultures and is a great opportunity to engage in interactive discussions and talks. The festival organiser, His Excellency Mr. Mal Berisha, during his diplomatic career in the United Kingdom has encouraged an open and connected community that embraces multiculturalism and diversity in the vibrant city of London.
For five days Londoners witnessed a series of educational and cultural celebrations including an art exhibition by the talented painter Bashkim Izano; book launches and talks by the renowned authors Dr. Enver Bytyçi and Sir Noel Malcolm; ceremony for the donation of the album "Songs of Motherland" (Këngët e Atdheut) by the talented musician Adelina Hoxha and Maestro Robert Radoja, published by Flamur Hudhri; and lecture by Ambassador Mal Berisha at the American Embassy in London about the Albanian-U.S. Jewish history.
The art exhibition by Bashkim Izano was the official opening event of the festival, organized by the European Commission and the Albanian Embassy in the UK and Ireland. Jacqueline Minor, the Head of Representation of the European Commission in the UK gave the opening remarks, followed by the Ambassador of Albania Mal Berisha. Jacqueline Minor spoke highly of Izano's work and said that Albanian art has been an integral part of European art. The great artist Bashkim Izano talked about how the English poet and painter Eduard Lear (1812-1888) inspired his paintings. Eduard Lear travelled to Albania in 1948 making drawings during his journey, depicted in his book "Journals of a Landscape Painter in Albania" (1851).
The contemporary artist Bashkim Izano dedicated his first exhibition in England to Eduard Lear. His beautiful oil paintings showcase Albania in the mid-19th century with its beautiful folklore and nature scenery. The exhibition titled "Homage to Eduard Lear" is open until 19 June 2015 at the 12 Star Gallery, Europe House in London. The Europe House is the London art base for the European Parliament and the European Commission and it has held several festivals and special cultural events to celebrate creativity and cultural diversity.
On June 4, 2014 the well-known historian Sir Noel Malcolm promoted his book "Agents of Empire: Knights, Corsairs, Jesuits and Spies in the Sixteenth-Century Mediterranean World." The book tells the fascinating story of Albania in the second half of the 16th century, representing a vibrant Mediterranean and European history with its generations of empires, cultures and religions.