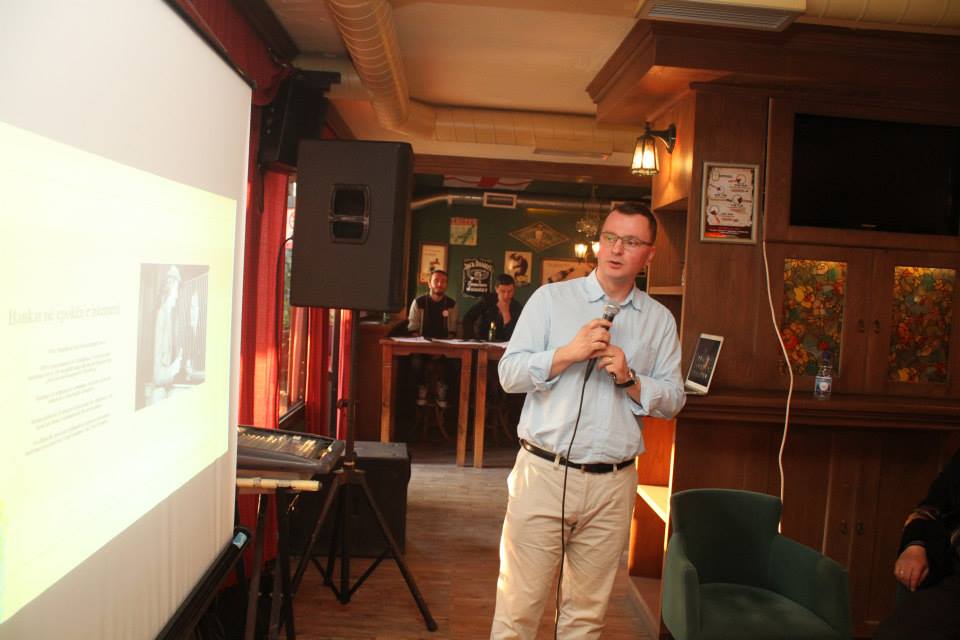 Emanuel Bajra: Efforts from a Banking Professional in the UK to Help Develop the Economy of Kosovo
By: Valon Xoxa May 22, 2015
Born in Kosovo and raised in the United Kingdom – Mr. Emanuel Bajra shares how he kept Kosovo and the British Albanian community at heart while becoming a successful banker, a writer, and a civil activist. Kosovodiaspora has chosen Mr. Bajra as a representative of a multitude of values that individuals from the diaspora bring to both host countries and their country of origin. Mr. Bajra currently works for the Lloyds Bank and shares with us the diverse spheres of life he engages in daily, proving once again that hard work and dedication are a key to integration and a successful life.
KD: Tell us a bit about your background and the work you do every day.
I was born in Kosovo. My family and I moved to the UK in 1998 where I finished my primary and secondary education. I completed my A-Level pre-University Education with honors in Political Science, Philosophy and Economics for my bachelors' degree. I then proceeded to earn an M.A. in Banking and Finance. I am currently working at the Lloyds Bank as an Independent Pricing and Verification/Valuations of Financial Products, Derivatives and Swaps Analyst. I evaluate pricing of options, swaps, bonds and other hedged and un-hedged finances and monetary market products for Lloyds Bank. My additional responsibilities cover swaps volumes, P&L data and Balance Sheet resilience. I also support the GEC Functions within the Group, working closely as an facilitating assistant to Commercial Banking Executive Director. The job is fun but it requires someone who is driven and responsible for the role.
When I am done with my work for the Lloyds Bank, I regularly contribute to the Kosovar/Albanian Community in the UK by acting as the General Secretary of the Albanian Community Association in London – "Faik Konica". I was also a Community Relations Advisor for the First Representative of the Republic of Kosovo in London. In addition, I coordinated the establishment and provided logistical support to the Kosovo Embassy in London in 2008. Finally, I am a member of the Royal Institute of International Affairs (the Chatham House) and a member of the inter-party Commission on Monopolies and Competition (the UK Labour Party).
However, one of my favorite past-time activities after work are the activities related to the "The Albanian", a newspaper in the UK where I participate on the editorial board and regularly contribute newspaper articles covering Politics, Economics and Banking.
KD: Tell us about your aspects of commitment and dedication to Kosovo.
I have a wide network of contacts in the House of Lords, the Houses of Parliament and the City of London, which ensures that the voice of Kosovo is regularly heard. I lobby extensively behind the scenes through my contacts to advance Kosovo's status as a future financial center for the Balkans and the South-Eastern Europe as a whole.
My main objectives currently are to devise a new, alternative investment portfolio planning in order to bring capital and investment to Kosovo by integrating our small market with the EU and by providing diplomatic and business awareness of Kosovo's great potential to the international banks and other financial entities. The aim is to ensure long-term economic prosperity for the country. I work on helping to integrate Kosovo's financial markets with the London Stock Exchange and the UK Market in order to help Kosovo's exports and in order to introduce UK imports to Kosovo. I have a keen interest and work on ensuring that Kosovo is safe and prosperous as a state, viable, strong and able to defend its sovereignty and independence.
KD: What are your plans for the future?
I plan to bring investment and new ideas in innovation and technology, banking and Finance to Kosovo. I would like to lead a bank or some other financial institution in Kosovo in order to bring a new perspective and outlook in the financial sector. In the near future, I aim to eventually get involved with the political process in Kosovo.
Besides this, I am a keen poet and writer. I focus on sci-fi genre of writing and have published books two book so far: "Politikonomia" (published in Gjakovë in 2011) which covers economic and social issues and "Pushteti I Dijes" focusing on economic and political analysis. Two of my additional works will be published in 2016: a novel "Rituali" and a book, which represents an analysis of the historical occurrences of financial, credit and bank crises.
KD: What do you think about the civil society sector in Kosovo?
I think the civil sector in Kosovo represents a very well organized set of groups, which does fantastic work in helping to tackle social and economic issues and challenges that Kosovo currently experiences. The civil sector is a good factor of balance on which the people of Kosovo greatly depend for the proper democratic process to be underway. The people, in accordance with this, expect a lot from the civil society. However, much more remains to be done – we are only half way there.