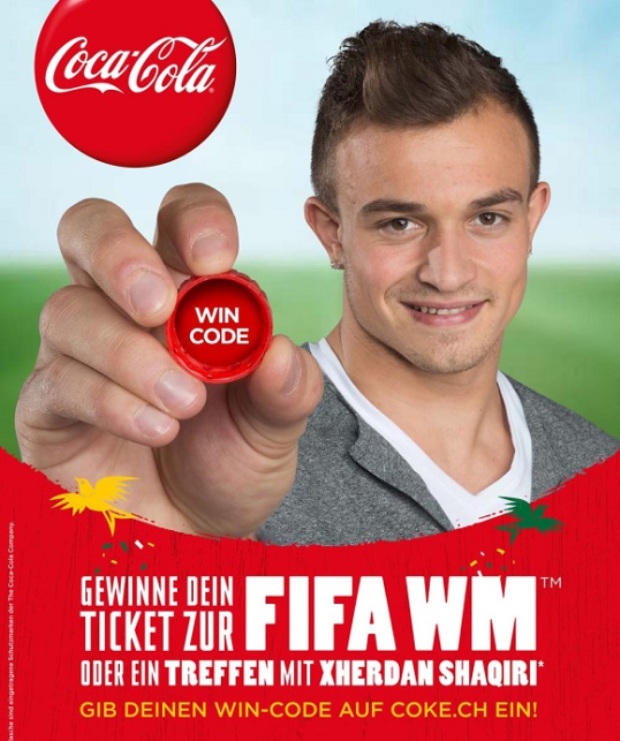 Coca Cola chooses Xherdan Shaqiri
By: Valon Xoxa May 16, 2014
On May 15th "COOP" stores throughout Switzerland have introduced the Coca Cola bottles and wrappers with the local star, Xherdan Shaqiri.
Xherdan Shaqiri has, for some time now, been a football star and has been in the hearts and minds of football fans in Europe and rest of the world. Xherdan has been chosen as the player of the year and has been continuously playing excellently. Xherdan has been shinning ever since 2010 when he was chosen as the upcoming player of the year. Similarly, in 2010, playing for his 2010 team, FC Basel, he won two titles (championship and cup competitions). Xherdan played for the Swiss national team (in their team A) and once their trust was gained, Xherdan became a part of the South African World Cup (2010).
It is not the first time Xherdan has been chosen as a promoter.  "Credit Suisse player of the year" – a brand set by Nike has already made Xherdan an idol. Now, his excellent performance with Bayern Munch as well as the Swiss National team has made him the face of Coca Cola in the Swiss market. Many youngsters and older people are asking for the can with Xherdan on it, and are willing to buy the drink and be proud of the game Xherdan has presented in the Swiss representation.
The original article was posted at Koha.net- Click here to read the original article.