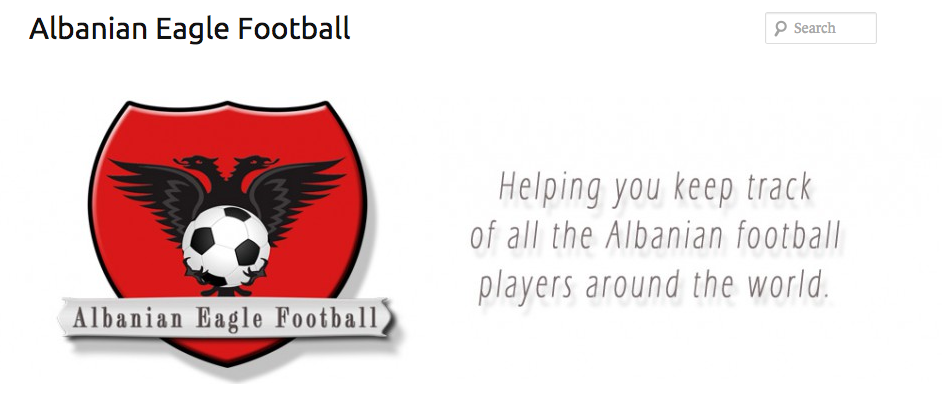 Football Helped Me Present a Different Side of Albanians to Sweden
By: Kosovare Mezini May 20, 2015
Sweden is a rather small country in Scandinavia where more than 9 million people reside. When you mention Sweden to the non-Swedes, they usually ask whether polar bears walk around the Swedish cities on a daily basis. However, the matter of fact is that you have greater chances in meeting an Albanian football player in the Swedish League than getting introduced to a polar bear.
Approximately 40 000 Albanians live in Sweden, leading one to at times forget that one is in Sweden since there is an Albanian around every corner. Unfortunately, Albanians in general have a bad reputation in Sweden. On numerous occasions people refer to me as a Swede just because I am not a troublemaker but rather someone who often raises my voice and reminds everyone that being Albanian does not mean that you come from a criminal family. Of course, do not misunderstand me – I love Sweden. I have been living in this country for more than 20 years. My roots, however, are red and black. Fed up by the negative perceptions, I always wanted to help give Albanians a better image. I never knew how to go about this, however, until an idea came upon me in 2010.
It all began in June 2009, when I was 18 and when I got interested in watching football, after seeing the U21 Euro Cup that hosted by Sweden. Emir Bajrami and Labinot Harbuzi were among the players who represented Sweden, leaving me shocked and wondering when Albanians learned to play football. The experience inspired me to follow other events and the Swedish League (Allsvenskan). I was surprised by the number of Albanians who played in the first league and their presence in the National Team. But, when I spoke of this to my friends, only a few had heard of these Albanian talented young people.
Since I was new to the world of football, I had to work hard to learn everything there is to know about this wonderful game. I stayed up late at night in the library, reading about football and memorizing entire career paths of several Albanian football players, sharing the information with people who had negative perceptions of Albanians. "Did you know that Besart Berisha scored the fastest hat-trick ever (6 minutes) in Australia's A-League?" was one of my favorite phrases. Since I wanted to have an impact on many other people out there with a negative image of Albanians I began a blog a year after the above mentioned events – Albankollen.
Albankollen means "keeping track of the Albanians" in Swedish. I began by writing a few things I knew but the blog gradually grew and I gained followers from around the whole country. My work was even recognized by Kosovo's head coach, Albert Bunjaki himself! The former Örebro SK and Kalmar FF assistant coach was impressed by me and called me to help him with the team when Kosovo played its first official friendly game.
Kosovo welcomed Haiti to the field as its first contenders when the home team announced the former Swedish NT assistant coach Tord Grip as Kosovo's assistant coach. This caught media's attention even more. However, he was not the only familiar face in the Swedish newspapers.
Kosovo's NT was led by Anel Rashkaj, a former Halmstads BK player who currently plays in the Norwegian Sandnes Ulf. Lined up alongside him were Ardian Gashi and Loret Sadiku, both playing for Helsigborgs IF at the time. Another Swedish player present was the striker Shpetim Hasani, a player of Örebro SK. The game against Haiti ended in a draw (0-0) and several of the Scandinavian teams welcomed back their players during the spring of 2014.
This was a great event and it helped me a lot in my mission of introducing several players and young talents to Sweden. Apart from the ones I mentioned above, the current Malmö FF player Agon Mehmeti and his former teammate Dardan Rexhepi are both Albanian. In addition, Etrit Berisha, the first goalkeeper of Albania's National Team, managed to make his way to the Swedish All Start Team last season but left the country to play for Kalmar FF in Lazio shortly before the season ended with Besnik Rustemaj, Liridon Leci and Alban Dragusha accompanying him. Besides these, Valdet Rama played in Örebro SK a few years ago together with Ilir Berisha, Kushtrim Lushtaku and Shpetim Hasani while the 22-year-old Dardan Mustafa in Gefle scored his debut goal in the Swedish League this year. However, he was not the only one to do so. Even Elfsborg's youngster Arber Zeneli, born in 1995, accomplished the same this season.
The number of Albanians playing football in Sweden is even greater, of course. They helped me achieve my goal of presenting a different image of Albanians to Sweden in these past years. I recently overheard two people on the bus talking about my blog. One of them commented on the number of talented people around the world while the other responded that he has heard about them through my blog – Albankollen. Their conversation made me walk out of the bus with a huge smile on my face my heart full of joy. This inspired me to make a change – I shut down Albankollen last month and began a new era – welcome to the Albanian Eagle Football!