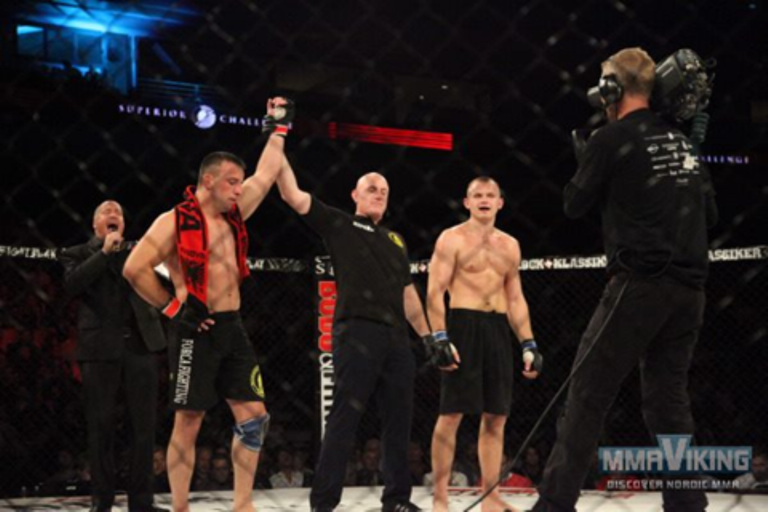 Kosovo born fighter Sadri Kelmendi runs one of Sweden's most successful MMA clubs
By: Albana Rama March 23, 2013
Kosovo born fighter Sadri Kelmendi is a part of the the adrenaline pumped world of Mixed Martial Arts (MMA). Born in Mitrovica in 1978, Kelmendi moved to Sweden with his family in 1992. Today he runs one of Sweden's most successful MMA clubs, that has had success in European championship events.
Mr. Kelmendi talks about how he and his brothers have always been fans of martial arts. As a 14 year old boy he started training karate, Kung-Fu, boxing, judo. By the age 23 he fell in love with MMA, which he saw as the ultimate sport. When asked about what makes the sport so interesting and exciting, Mr. Kelmendi says, "There are so few rules in the sport".
The dedicated Sadri Kelmendi and his brothers trained hard for a couple of years, and made some great progress within the sport MMA in Europe. They came third place in submission wrestling. As everything seemed to go well, they faced some obstacles and lost the club where they were training when their coach decided to move abroad. But this only motivated them to start their own club for anyone who wanted to train, even beginners.
Even though he expresses the love for the club, he says there are some disadvantages: "What's less good with being a coach and have your own club is that you cannot concentrate on yourself and your own training, but you need to help the members".
The MMA club is called Forca fighting and is located in Stockholm, Sweden. At Forca fighting they try to mix the training, which consist of MMA, submission wrestling, thai boxing, boxing, wrestling and also some physical training. The club concept is "to train hard, serious and determined". They train five times a week at Forca fighting, and at least two sessions a day if they are preparing themselves for a competition. A good atmosphere and having fun is as important as being a community for the club.
Mr. Kelmendi talks about Forca fightings sucess, they are today 200 members and they are growing bigger by the time. They have two members who last year became SM-champions and others with some good placements. Forca fighting has also 5-6 professionals who train. They have won several titles in different submissions and brazilian jiu-jitsu competitions. Sadri Kelmendi won in 2012 Europes biggest MMA gala, Superior Challenge. His brother Visar Kelmendi competed in the same gala, but his opponent claimed he could not compete due to an injury, which Sadri Kelmendi claims is not the first time that an opponent surrendered. He laughs and says that he understands them, and continues to tell that this is the fourth time this happened to Visar. Mr. Kelmendi. he went on to express his frustration of training hard for three months and then being told that the opponents have retreated of various excuses.
When asked about how it is being a kosovar abroad, Mr Kelmendi says "It is good, but you miss your homeland". He continues telling about their future plans, that is to open an MMA club in Kosovo, because he knows that there are many Kosovars that could go far in this sport, given our mentality. But it is not as easy as it sounds, he tells Kosovo Diaspora: "The problem is that we were young when we moved from Kosovo, and do not have the contacts that are required to start a club there".
Mr. Kelmendi and his brothers will continue with their hard training, coaching members of forca fighting and their sons. They will definitely enter more MMA competitions, each and anytime they get offered.
For more information about the club, visit: http://forcafighting.com/