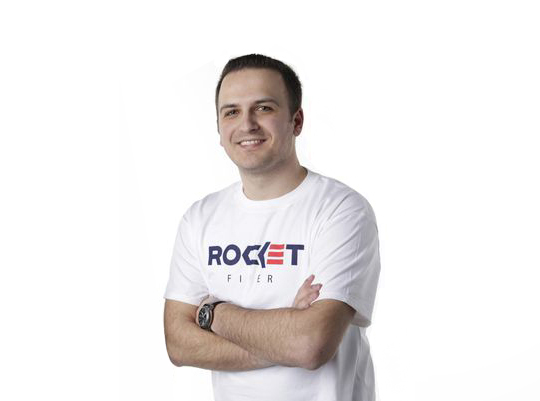 Edi Demaj: A high-speed mind in Detroit
By: Rrita Pula March 31, 2015
Born in Prishtina, Mr. Demaj is a hardworking 29 year-old who is the co-developer and partner in several online endeavors and the co-founder of Rocket Fiber, a next generation fiber-optic internet network in Detroit.
Like the rest of people from Kosovo, in 1999 his family had to run for their lives so they fled the country. Having lost their home during the war, they were fortunate to have made it alive to the US and move to a city near Detroit. "I fell in love with the city of Detroit very early in my American life; from Detroit sports teams to the history and legacy of the city. Very early on I adopted Detroit as my new home city and began to treat it like I did Prishtina" said Mr. Demaj when interviewed for KD.
Being immigrants, his parents did everything in their power to make sure their children received the best education possible. He finished high school in a city about 40km from Detroit, called Rochester Hill. One of his first accomplishments is completing his four year degree in Political Science with an Associates degree in Business Management at Oakland University under two and a half years. Today, he is earning his Masters in Business Management with a concentration in Strategic Leadership from Walsh College.
Mr. Demaj worked throughout his high school, college and masters. Until lately, he was employed at Bedrock Real Estate Services, where he was involved in the management, leasing and development of various projects in Detroit. During his time at Bedrock, he co-founded several startups, most notably iziSurvey, a startup that provides online and offline tools to collect real time data for very low costs. He also co-founded Reozom, a residential real estate marketing platform that makes the buying and selling of homes easier, simpler and more affordable than ever before in America. Last but not least, he is a partner in the first Albanian search engine Gjirafa.com, a platform that is changing the way Albanians find and use information, as well as do business forever amongst themselves. "Gjirafa is a game changer for Albanians all over the World, by far the most innovative Albanian technology to date and something we should all be proud of" Demaj stated. All of the startups he is involved with are in partnership with his younger brother Etriti and long-time friend Mërgim Cahani who is also Founder and CEO of Gjirafa.com.
These online endeavors are a great example of companies with American headquarters; Albanian and American co-founders and partners that are training and employing Albanians in Kosovo. "Identifying what Kosovo is missing and finding a way to fill that void is how I try to contribute to Kosovo. As someone who has invested in Kosovo and continues to do so, I am hopeful that the younger generation of Kosovo will be regional leaders in innovation. We have our independence and control our own destiny, it is up to us create a business-friendly environment that fosters innovation and entrepreneurship" said Mr.Demaj.
Last June, together with Marc Hudson and Randy Foster, Mr. Demaj co-founded Rocket Fiber, a next generation fiber-optic internet network. "I co-founded the company with two other very ambitious and extremely smart entrepreneurs with the goal of putting a city all three of us love, in a group of cities in America and the World that have an infrastructure of ours available" he said. Rocket Fiber is building an infrastructure and will offer services that very few cities in the world have available. "Similar to Google Fiber, we are offering internet speeds that are 100 times faster than current average residential speeds in America. In addition to residences, we are taking it a step further than even Google by offering one or more Gigabits to small, medium and large commercial businesses" answered Mr. Demaj when asked to talk about RF services. "Detroit has a legacy of innovation and entrepreneurship. We're building a platform that will make it possible for entrepreneurs and innovators to develop next generation products on" he added. Mr. Demaj is currently the COO of Rocket Fiber and is responsible for helping with the execution of the their vision by bridging the gap between technology, product and other areas within the company. The project will start with downtown Detroit in 2015 and will expand to other areas in the upcoming years.
"Being proud of your heritage is encouraged in America and it is where it all starts with the Kosovar diaspora in my opinion. I will continue to be involved in projects that have to do with Kosova and Albanians and try to help any way I can."