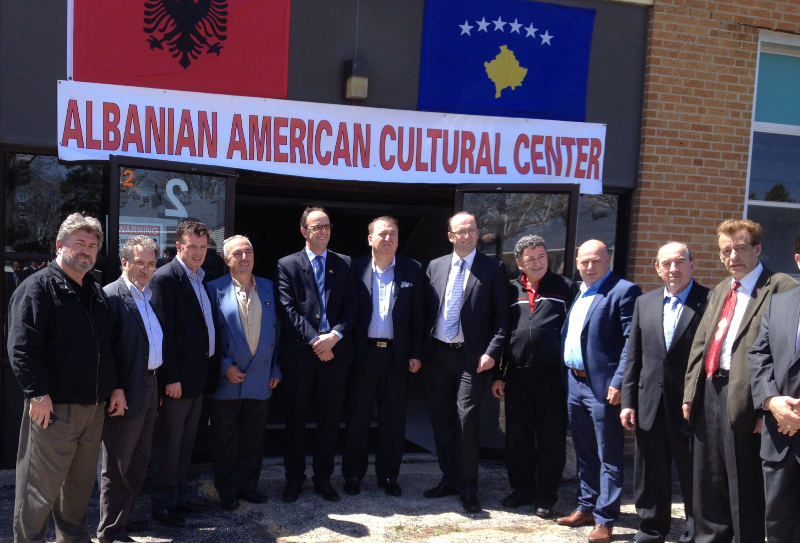 Diaspora network stretch reaches North America and Canada
By: Valon Xoxa May 8, 2014
London, Toronto, Detroit, Chicago and Dallas are the latest cities to join the far reaching Diaspora Business Network. The Kosovar ministry of diaspora, with cooperation and aid from IOM and UNDP has continued the creation and link creation between Diaspora Business communities. The project aims the creation and strengthening of business ties between diaspora businessmen, thus encouraging investment in host countries.
As part of the project,networks have been created in London,Toronto, Detroit, Chicago and Dallas.The delegation from the Kosovar Ministry of Diaspora was consisted of Mr. Ibrahim Makolli, Naim Dedushaj,Ardian Spahiu from UNDP,Roberto Cancel from IOM,Arian Zeka ,Irena Kashtell,Elmi Berisha and Besim Malota. Toronto, the city where a large community of Albanians live, has been the first stop. The group had established a branch of diaspora businesses with nine (9) chairmen, with Bashkim Breznica as president and Afrim Gashi as vice president of the branch. Detroit, was the next host city where the group had landed and established a similar branch with Prenk Gjokaj being the head.
The delegation had the opportunity to visit the HTC factory in Detroit, owned and operated by Gjergj Juncaj. A well known factory with 200 employees specialized in metallic profiles, furthermore, it is important to note that the factory is currently ranked as third in the country within its field of operation. The delegation also stopped in Chicago where a branch with 14 chairmen, coordinated by Gani Ahmetaj,Vallton Hoti,Sedat Sadiku,Afrim Sejdiu and Pajazit Murtishi.  Furthermore, in the suburb of Chicago, the Albanian diaspora had also established a cultural Albanian-American center.
Mr. Makolli had the chance to be the honorary guest and officially open the center. Finally, the delegation had chosen Dallas as its last stop within this Odyssey like journey where an estimate of five thousand Albanian Americans live. A branch was also established here where 15 chairmen had been chosen with Nazar Mehmeti being the head coordinator.The core concept of the project had been strengthening the ties between community members of the diaspora as well as increase the cooperation between Diaspora and Origin Country businesses.
The original article was posted at Illyriapress.com Click here to read the original article.