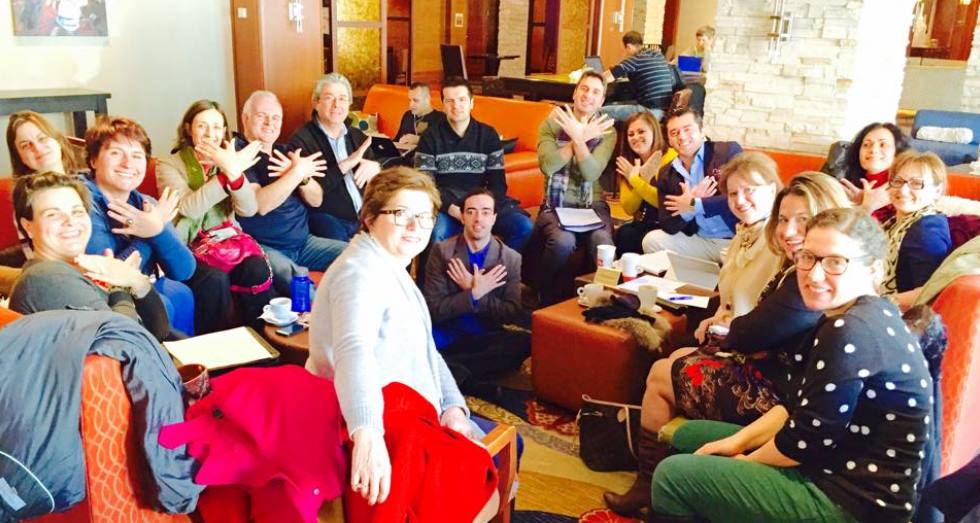 DC Albanian Diaspora Group Meetup
By: Valon Xoxa February 9, 2015
31st of January 2015 marked a gathering of around 20 Washington-based Albanian professionals, where an Albanian Diaspora Group has been established to identify and set strategic development ways to better influence development in both Kosovo and Albania.
The initiative has derived by the Harvard University project of engaging Diaspora for country development. It includes organizations such as the Albanian Professional's Network of Washington, VATRA, The National Albanian American Organization, and The Albanian American Academy. During this event, each organization briefly described its historical narrative and current mission statements, through which the relevance of a coordination among these organizations has been highlighted.
Two major topics discussed throughout the event were:
1.  Short-term: DC Diaspora efforts in function of the Harvard-led project.
2. Long-term: The creation of an institutionalized, inclusive organization which will address Diaspora issues and will consolidate the efforts of the Albanian community of professionals and intellectuals in DC and abroad.
The participants at this event voted unanimously for Ermal Vila to be the Head of the DC Albanian Diaspora Group. In addition, a Working Group was created, with one representative of each of the four Albanian American organizations and other non-affiliated participants. The Working Group will consist of: Ermal Vila – Working Group Lead, Alfred Papakostandini – (VATRA), Alban Pruthi – Albanian Professionals in DC (APDC), Bledi Prifti – Albanian-American Academy (ASHA), Iris Maluka – Albanian-American National Organization (AANO), Daniela Kristo Nesho – Albanian Consul in DC, Guljed Birce – Albanian Human Rights Project, and Alma Ford – non-affiliated.
Upcoming events of the DC Albanian Diaspora Group shall address the agenda for the meetings to be held during Spring 2015 and a note of clarification regarding activities of Harvard-led project. Issues of registering the newly formed group at the IRS for fundraising purposes and its mission statement will be decided in future meetings as well.
For recent updates on activities of Albanian Professionals in DC, you can click HERE.