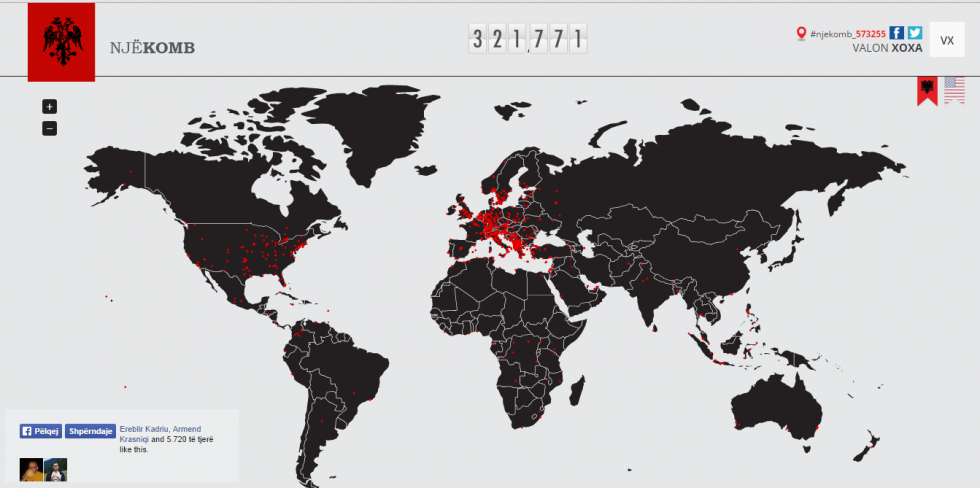 Nje Komb Calls All Albanians to Register Online
By: Valon Xoxa September 1, 2014
What started as table talk quickly became a reachable project for Besfort Axhanela. Currently a history student, Besfort has set a goal of identifying Albanians around the globe through his website njekomb.com. The site has identified roughly 320 thousand users with numbers continuously growing.
320 thousand is only a fraction of the total, Besfort claims that there are a lot more people of Albanian descent in the world. History shows that Albanians have always been migrating from one place to another, often forced through politic persecution or economic conditions. The website is fairly simple to use and the registration is complete within a few clicks.
The website has received a considerable amount of coverage:
"I have always wondered upon how big of a population we are. I know that there are milions of Albanians in Turkey, yet the number is still very relative. I am from Kosovo but I am an Albanian, being from Kosovo and the acronym of a Kosovar is a construction, I believe that many like I feel and are Albanian. I expect people that do consider themselves Albanian to register and identify through the page." explains Mr. Axhanela for kulplus.com
The website, with growing number of entries will bring multiple benefits, people will have the chance to connect worldwide and learn of Albanians living nearby.
Identifikohu edhe ti! http://t.co/LDwqsiNDFy #njekomb

— Besnik Kallaba (@besnikzki) August 20, 2014