The Turkish Yeni Diplomasy Features KosovoDiaspora.org
By: Kosovo Diaspora August 14, 2014
KosovoDiaspora.org (KD) is a crowdsourcing digital diplomacy and engagement platform that connects Kosovars to the world, and the world with Kosovars. KD uses social and online media to highlight and celebrate achievements of individuals, groups, and organizations related to Kosovo. KD also serves as a tool to nurture existing links between Kosovo and its diaspora community. KD is an independent, non-governmental, and a non-politically affiliated initiative.
KD came to fruition in 2012 as an outcome of the Beyond Remittances: Public Diplomacy and Kosovo's Diaspora study written by founders of KD, Behar Xharra and Martin Waehlisch. KD believes members of diaspora present an enormous potential for the country. Those living abroad have the passion, drive, financial resources and networks abroad. They have knowledge of their home country as well as familiarity with the cultures, language, life and politics of their present host countries. They represent bridges between Kosovo and the rest of the world, serving on a day-to-day basis as the country's best ambassadors. Also, KD strives to cooperate with all Diaspora communities, governmental and non-governmental agencies, private entities and individuals to help strengthen the links between Diaspora and our home country, and enhance the image of Kosovo.
KD's current and past partners and supporters are: the Public Diplomacy Consortium (Kosovo's Ministry of Foreign Affairs, British Council Kosovo, and the Norwegian Embassy in Kosovo), the United Nations Development Programme (UNDP), the International Organization for Migration (IOM), and the Ministry of Diaspora.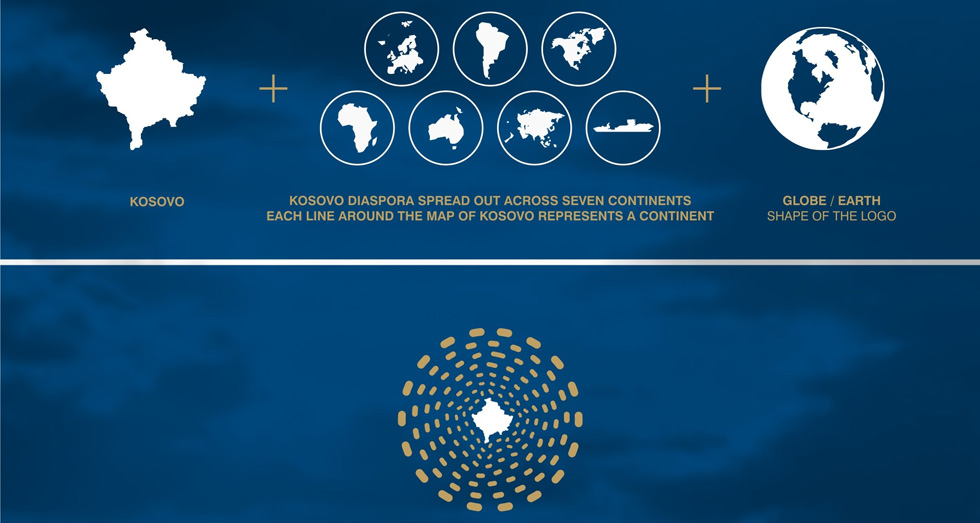 KD presented its launched its re-branded platform at the Kosovo Innovation Center on 21 July 2014.
There were over 100 participants at the event, including the Minister of Diaspora, Deputy Minister of Foreign Affairs, foreign dignitaries, civil society and technology enthusiasts. Initially, the audience was addressed by Liza Gashi, who is the project manager. Miss Gashi emphasized the importance of such a platform and talked of the struggles and achievements in making KD possible. "Unfortunately, a lot of the content about Kosovo is created by media from our neighbouring countries, which have had the tendency to publish content that mainly highlights negative aspects of Kosovo and its image; what we are trying to do is change this through telling the stories of our Diaspora members, and utilizing the fullest of our potential.". Gashi thanked all the donors and contributors, as well as active supporters for making Kosovodiaspora.org the success story which it has come to be today.
Uranik Begu, Executive Director of Kosovo Innovation Center congratulated the initiative and expressed ICK's full support for the KD. Begu emphasized that cooperation with the diaspora is an important determinant on Kosovo's economic sustainability and development due to the fact that the Diaspora is an important agent in attracting foreign direct investment as well as bringing current business practices to Kosovo's market. The Minister for Diaspora, Ibrahim Makolli, spoke of the potential of the Kosovar Diaspora in fostering not only economic development but also enhancing the image for Kosovo and Kosovars in the countries they live. "I am confident that through this platform, we have opened a new chapter in communicating with our Diaspora, a community that without a doubt presents one of our strongest potentials both financially and culturally".
Arjeta Emra, the Executive Director of the British Council, presented an array of activities and events the British Council and the Ministry of Foreign Affairs have supported, including the KD, in the field of public digital diplomacy aimed at the 5 European countries, which remain hesitant to accept Kosovo's independence. Emra is very confident of the results and benefits of digital diplomacy for Kosovo, and is fully supportive of the KD initiative. Petrit Selimi, Deputy Minister for Foreign Affairs, considers KD an important outlet of digital diplomacy for Kosovo and its Diaspora.
Selimi spoke of MFA's many innovative projects and activities on public and digital diplomacy such as Interfaith Kosovo, an initiative that has gathered over 700 representatives from around the world. He further expressed pride to have invested on KD, saying "Through this platform, the world will know Kosovo as a country, as well as a thriving society." KD, as a partner of the MFA's Digital Diplomacy initiative, will lobby in favor of Kosovo's recognition with a special emphasis on the European Union. KD invites every citizen and people with interest in Kosovo to promote the platform and serve as a cultural ambassador at their host country communities.
***