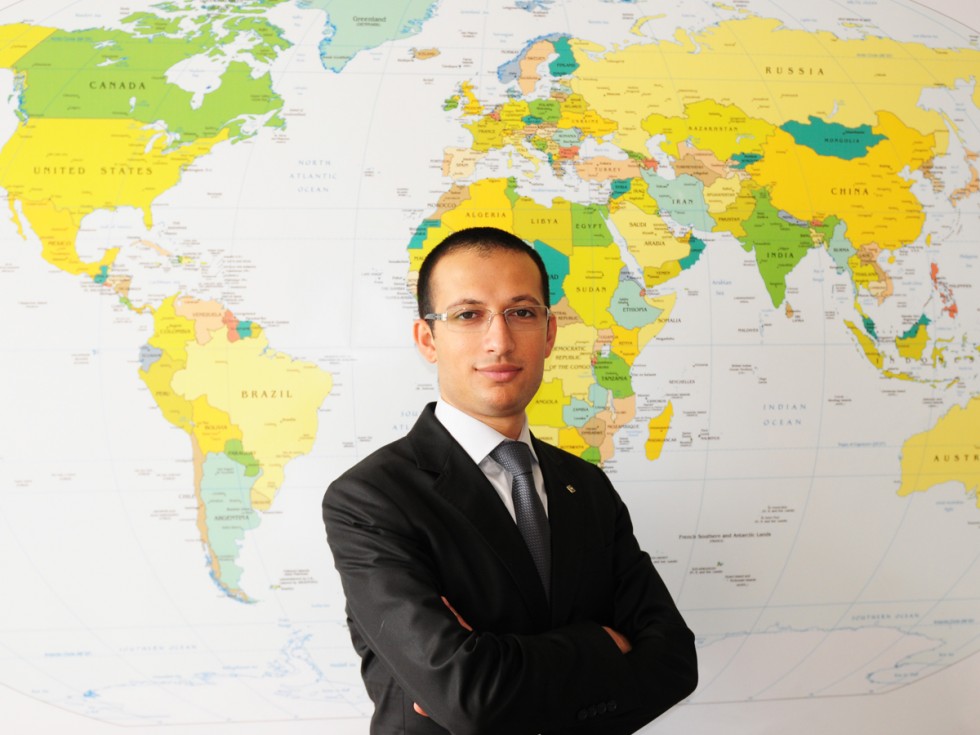 Kosovo Young Scholar Erdoan Shipoli publishes a book on International Securitization and Kosovo
By: Kosovo Diaspora August 26, 2013
Although Kosovo is not so much represented in the world academia, young Kosovar scholars have started to fill this gap gradually. Among many others, some of which we have featured in the Kosovo Diaspora Scholars, Erdoan A. Shipoli is receiving his PhD in Political Science and International Relations at Fatih University in Istanbul, Turkey, where he also works as a teaching assistant.
Erdoan has studied for the past eight years at Fatih University, starting with his undergraduate degree. He considers it a great opportunity to study Political Science and International Relations in this decade in Turkey, during which the country has transformed itself into a regional economic and political  power with increased importanice in the world affairs.
Originally from Mitrovica, Erdoan was raised in Prishtina. After the war in Kosovo, Erdoan has been active in civil society activities in Kosovo and abroad, which he credits to have shaped his personal and academic life.
For many years in studying politics and international relations Erdoan has tried to make his modest contribution to the IR theories. He has contributed to expand the securitization theory from the domestic to the international level. His recent book International Securitization: The Case of Kosovo argues that there are different levels of securitization, and they differ from each other on many points, especially the actors involved. In this book the reader can see how this difference is seen in the international and domestic levels of securitization. For Kosovo, on the other hand, it has been written a lot, but the objectivity of most of the works published is doubtful. With an inside experience, and a good literature review, the author aims to unveil many myths on Kosovo. Although this book shows how Kosovo was securitized for the NATO intervention, it also includes explanations of many situations before the war of Kosovo in 1999, to better explain the problems in the region, which led to the war.
Erdoan thinks that by this work he has "contributed to the development of the securitization theory, but more importantly it has contributed to the literature on Kosovo, and complemented the work of many authors that previously have written on the issues of the country. His book on International Securitization is being translated into Turkish, soon to be published.
As part of his PhD research, Erdoan tries to further develop the theory of securitization by analyzing the US foreign policy and the securitization of values, religions, and ideologies. Erdoan is a young scholar joining the very few academics and world scholars further developing the theory, which dates from the 1990s.
Other issues of interest that Erdoan writes related to ethnic conflicts, terrorism, negotiations, social problems, and political philosophy. Parallel to the International Relations field, Erdoan has successfully passed the qualification for Political Philosophy, for which he feels a deep passion. Erdoan sees as extremely important to read and understand political philosophy from the classics, ancient Greek, Judeo-Christian, and Islamic political philosophy, to the modern political philosophy, in order to best address the political problems of today. For him "the problems that we have today did not come out of the blue, they are accumulated with years."
Erdoan has worked with many distinguished scholars in Turkey and adds, "the academia is what our region and in particular Kosovo needs. We need good academics because first we have to write and tell the world about the story of Kosovo and the region  in an objective way. Secondly we have to have good academics and experts, who read the situations in the world and analyze the Balkans accordingly"
Erdoan is a firm believer that Kosovo scholars have the capacity to aid the academia. Scholars from the country have lived through conflict, transition, institution building; they understand the effects of these processes in the daily life of people but also in the realm of political science and international relations.  By thinking of global problems and their solutions, this way the scholars can address and solve the issues in Kosovo. He stresses that although small, the country can continue to give to the world new people like Mother Theresa, Sami and Naim Frasheri, Ferid Murad, and many others, who have contributed to the world in their respective fields, but also the for thir country and Albanians in general.
Erdoan is also very active in organizing summits and international conferences, through which he fulfills his passion of traveling. He is a founding member of the Istanbul Leadership Institute (ILI), the founding president of BALKANSIAD academic platform in Turkey, a member of Federation of Balkan American Associations (FEBA) in the US, and other smaller initiatives and organizations in Kosovo and Turkey.
Erdoan A. Shipoli teaches in subjects related to the International Relations Theory, Human Rights, Political Philosophy, Balkan Politics, Security Studies at Fatih University in Istanbul, Turkey. He writes op-eds in Turkish media and has presented papers in several international conferences.
Below are some of the most cited articles, op-eds, and interviews of Erdoan.
(Op-Ed) Shipoli, Erdoan A. 2012. "Why the Kurdish issue is not similar to the issue of Albanians in Kosovo". Today's Zaman. August 14. http://www.todayszaman.com/newsDetail_getNewsById.action?newsId=289550
(Op-Ed) Shipoli, Erdoan. 2011. "Diplomacy between the Balkans and the MidEast". Today's Zaman. July 28. http://www.todayszaman.com/newsDetail_getNewsById.action?newsId=251973
(Op-Ed) Shipoli, Erdoan A. 2012. "Kosovo* – what next?" TransConflict. March 5. http://www.transconflict.com/2012/03/kosovo-what-next-053/
(Interview) Cum (re)cucereste Turcia Balcanii. Foreign Policy magazine in Romania. April 22, 2011. http://www.adevarul.ro/international/foreign_policy/dosare_fp/recucereste-Turcia-Balcanii_0_467353262.html
(Interview) Turkey's Role in the Balkans: Opportunities and Constraints. November 09, 2010. http://www.usak.org.tr/EN/makale.asp?id=1783
(Cover Story for Turkish Review, a semi-academic journal in Turkey) Shipoli, Erdoan A. 2012. "The Beginning of the End for National Service?" Turkish Review. Vol. 2. Issue 7. Pp. 76-81.
(Article) Shipoli, Erdoan. 2009. "Birlesmis Milletler'de Sivil Toplumun Yeri". Dernekler Dergisi. No. 9.
(Article) Shipoli, Erdoan. 2009. "Euro as a New Force for Economic Integration? And, Perhaps, Political Integration?" Civilacademy. Vol. 7. No. 1. Pp. 89-99.
(Article) Shipoli, Erdoan A. 2009. "Is Wahhabism a Security Challenge for Kosova, or Not?" EJEPS. Vol. 2. No. 2. Pp. 85-95.
(Book) Shipoli, Erdoan A. 2010. International Securitization: the Case of Kosovo. LAP Publishing.
(Conference Paper) Shipoli, Erdoan A. 2012. "The Securitization of Kosovo in Turkey". International Congress on Neighborhood: From War to Eternal Peace on the 100th Anniversary of the Balkan Wars: Good Neighborhood Relations in the Balkans. Istanbul, Turkey.
(Conference Paper) Shipoli, Erdoan A. 2011. "The Securitization Theory Application in Kosovo". International Balkan Conference. Kocaeli University, Izmit, Turkey.