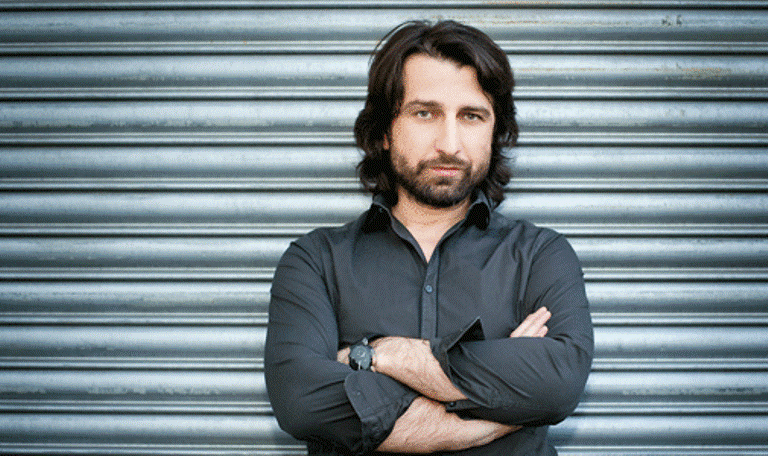 Kosovo presented at the Venice Biennale
By: Kosovo Diaspora October 5, 2012
Kosovo is one of the five new countries to be highlighted at the 13th International Architecture Exhibition, La  Biennale  Di Venezia 2012. The Kosovo pavilion has been designed by successful diaspora architect and curator, Perparim Rama, founder of London-based firm 4M.
Designwire Daily writes: "The Filigree Maker" presented by Kosovo is a multimedia presentation of screens projecting images and an orderly arrangement of wires descending from the ceiling. The interactive exhibit allows visitors (and anyone with internet access) to select "architectural and urban landscape images from the country on provided iPads, and linking them directly to a sentiment: happiness, sadness, entrapment, excitement, freedom, or anger," notes press material.
Other first-time countries presented in the Venice Biennale are Angola, Peru and Kuwait.
***
Perparim Rama
Rama is a founding director of 4M Group. He deals with the overall responsibility for the management and development matters within the Group.
He has been involved in various large scheme developments including his duties as a London team project leader on Enk Complex Mixed Use development in Prishtina and as a specialist consultant for developing Special tools for Spatial Planning and Architecture for Newham Council and Tower Hamlets. He has over ten years experience on various projects in residential, commercial, hotels and mixed use developments within UK and internationally. Having worked and travelled extensively in different countries over the years, (New York/USA, TCI Caribbean, Kosova, UK, Italy, Kuwait, UAE) collaborating on large scheme projects he has developed an entrepreneurial flair and creative thinking to design new enterprises. Rama has teaching experience as a unit tutor at Nottingham University School of architecture and supervises PhDs in the area of 3d Generative Architecture & SMARTbuilding design at MA and PHD program at SmartLab Media institute, he is also a visiting tutor/critic at University of East London on Degree, Diploma and MSc in Computing & Design and as visiting critic at the Architectural Association. He conducted extensive research on spontaneous settlements and self organisation and is an expert in Generative Architecture and Smart Buildings. He is a member of Centre for Evolutionary Computing in Architecture at University of East London.
***
Source: Mairi Beautyman. "First-Time Nations Highlighted at the Venice Biennale." Design Wire Daily. Thursday, October 4, 2012 http://designwire.interiordesign.net/products/13395/first-time-nations-highlighted-at-the-venice-biennale
4M Group Official Website: http://www.4mgroup.co.uk/about-us/profiles/86