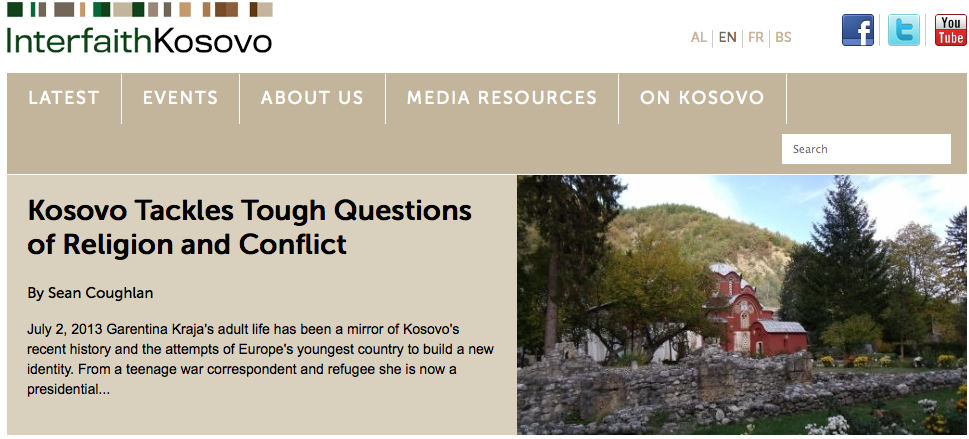 Kosovo hosts innovative Summer Programme on Religion and Foreign policy
By: Kosovo Diaspora August 6, 2013
The Tony Blair Faith Foundation and Ministry of Foreign Affairs, in collaboration with the Balkan Institute and the University of Pristina are launching a two-week Summer Programme on "Faith and Foreign policy: Investigating the role of religion in Conflict and Post-conflict transformations" between 5 and 17th August. The Programme welcomes 26 participants from 15 countries as far and wide as Morocco, China and Ukraine. Renowned experts will address a varied programme covering themes such as religion in the context of post conflict reconstruction and the role of religion, culture and identity in the Balkans. Speakers include Professors Miroslav Volf from Yale University, Professor Ivo Banac from Yale University and of the University of Zagreb, Ambassador Zamir Akram, former Pakistani ambassador to the UN and lecturer at the Geneva school of diplomacy, and Obrad Savic, founder and director of University of Singidunum. The programme will include a weekend trip to Prizren to visit the city's cultural heritage of mosques and churches standing side-by-side.
Charlotte Keenan, Chief Executive of the Tony Blair Faith Foundation said:"This summer we are collaborating with the Kosovo Ministry of Foreign Affairs, University of Prishtina and the Balkan Institute, running an intensive summer course on the interaction between religion and foreign policy. The programme brings together students with professionals, diplomats, as well as regional and international leaders. It will equip participants with the necessary knowledge and skills to understand and analyse the role of religion in the context of conflict and post conflict situations. We hope this will enable us to see religion to be part of the solution, as well as often part of the problem. We cannot think of a better place than Kosovo for such a course."
Petrit Selimi, Deputy Minister of Foreign Affairs of the Republic of Kosovo said:  "The Summer Programme is a further step forward in our continued commitment to promote interfaith dialogue in Kosovo. It's a part of our multilayered public diplomacy programme and a follow up to the successful Interfaith Conference which brought faith leaders and experts from all over the globe to Peja in May this year. We are delighted to cooperate with Tony Blair Faith Foundation to host the Programme and receive world renowned experts here in Kosovo to continue to explore these important issues with participants from 14 countries".
The original article was posted at The Ministry of Foreign Affairs webpage. Click here to read the original article.