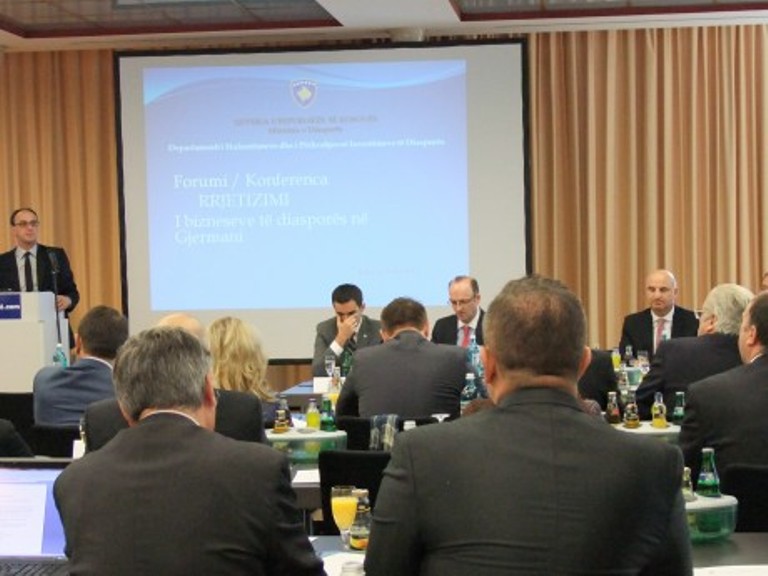 Kosovo Established the Network of the Diaspora Businesses in Germany
By: Kosovo Diaspora October 21, 2013
Recently, the conference titled Networking of Diaspora Business in Germany was hosted in Cologne, Germany. The aim of the conference was to create a network of Albanian businesses in Germany, under the auspices of the Ministry of Diaspora, the Ministry of Economic Development, The Investment Promotion Agency, The American Chamber of Commerce in Kosovo, the Embassy of Kosovo in Germany, the UNDP, and the IOM.
The Minister of Diaspora, Mr. Ibrahim Makolli, stated that, "the role of diaspora during the first phase of Kosovo's reconstruction and economic recovery has been and will continue to be irreplaceable."
"The Albanian diaspora continues to be one of the main factors of Kosovo's country development. However, no one is completely satisfied with the current level of development. The diaspora has created opportunities for capital gain and experience, to continue to heighten these levels. Institutions and the diaspora are trying to identify the best forms of interaction, leading to a more direct diaspora participation in development," he continued.
Leaders of known Kosovo companies also spoke, many of them members of the diaspora. They spoke of their business successes, the investment experience, and their plans for future investment in Kosovo.
The Networking Diaspora Businesses in Germany conference then chose 16 members to help this investment materialize this idea.
The original article was posted at the Ministry of Diaspora webpage. Click here to read the original article.