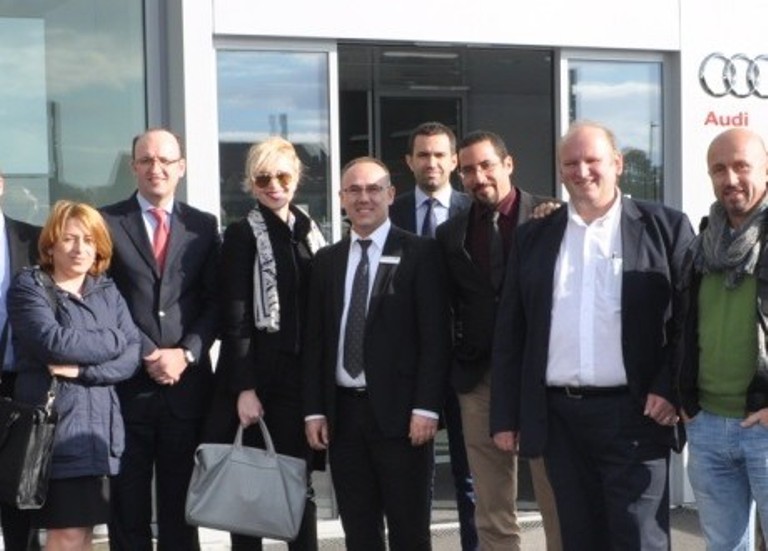 Network of diaspora businesses in Germany
By: Kosovo Diaspora October 23, 2013
Meetings with Albanian diaspora business are currently being held in Frankfurt and Cologne, Germany. Attending these meetings are representatives from the Ministry of Diaspora, Ministry of Economic Development, Chamber of Commerce, the UNDP, the IOM, and various representatives from the businesses, themselves.
A large number of businesses from Frankfurt and Stuttgart attended the first meeting, held in Frankfurt.
Valon Aliu of the VA – TEC company in Stuttgart volunteered his experiences as a diaspora business owner, touching upon the challenges, successes, and his key investments so far. "I call on everyone who is able to invest in Kosovo," he declared following his statements.
On October 11, the various Ministry delegates from Kosovo visited a number of businesses in Frankfurt. They started at the Zahnarztpraxis clinic, owned by Dr. Naim Osmani and home to more than ten employees. Next on the agenda was Awr-Abbruch GmbH, run by three brothers from Ferizaj. Manager Mr. Nazmi Viqa elaborated on the company's history, one of the largest firms dealing in object demolition. The last three companies were tourist agencies Eurokoha, Albakos, and Loni-Reisen.
On October 12,  they continued with conferences in Cologne, featuring segments on investments and networking in Germany, as well as a speech from the Minister of Diaspora, Ibrahim Makolli. The aim of these conferences is to create a branching network of support for diaspora businesses.
The conference on investments "Networking of diaspora businesses in Germany" supported by UNDP and IOM
The original article was posted at the Ministry of Diaspora webpage. Click here to read the original article.