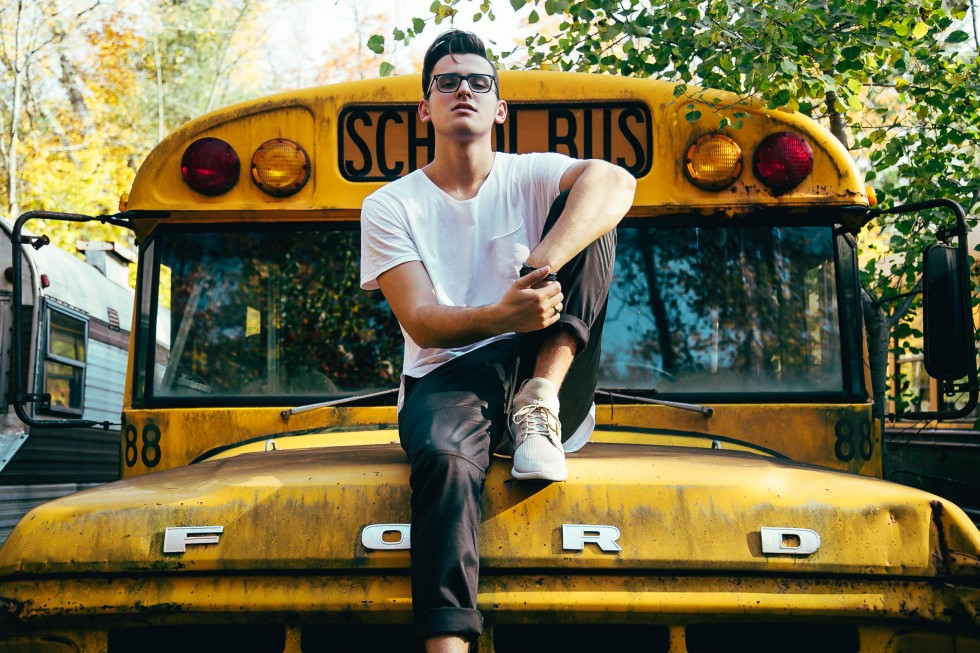 How Stanaj Paved His Road to Stardom
By: Flaka Ismaili March 28, 2017
On a simple dark stage underneath a single spotlight, the Albanian music artist known as Stanaj stands tall and confident ready to perform for his fans at the 9:30 Club in Washington D.C. He grabs the microphone and immediately the room becomes electrified by his powerful and smooth voice and his infectious presence.
Stanaj, 22, has been performing for large audiences like this for quite some time now. Yet, he evokes such a level of pure joy and excitement when he sings that it feels like this could be his first big performance. It is with love, gratitude, and a huge smile adorning his face that Stanaj gives life to his beautiful songs and sends everyone home with a piece of his heart and a little bit of his charm. There is something truly admirable about the genuineness with which he performs.
Stanaj, born in New York to Albanian immigrant parents, has taken the music industry by storm and is quickly rising as a pop-star sensation. Within five months he successfully released two EPs, "The Preview" in 2016 and "From A Distance" in 2017. Aside from being featured on Spotify's "Pop Rising" and Tidal Rising, he is selling out shows in every city alongside singer Jojo.
The world was officially introduced to Stanaj in October of 2016 through his first official television debut on the Tonight Show with Jimmy Fallon. By his own admission, that debut to him was a dream come true. But, to many people, Stanaj was already someone to watch out for due to his large social media following. After performing in bars and small gigs, Stanaj began to steadily gain popularity on Instagram, YouTube, and Twitter. In a matter of a couple of years, he managed to go from a social media sensation to a respected recording artist. Stanaj has come a long way but he still thinks there is a lot of work ahead of him. "I am nowhere near where I want to be. However, I've been lucky enough to be recognized by so many people as a true artist," he adds.
When he's not on the road, Stanaj splits his time between New York and LA writing –he has written with some of the best writers and producers–and recording songs. But that burden is made easier by the tremendous support and the constant presence of his family—"my champions", as he refers to them— to whom he dedicates his entire success to. In fact, his manager Mark is his brother. But the sacrifices his family has made along the way are finally paying off. Being a first-generation American and seeing the struggles that his parents have had to overcome inspires Stanaj to pursue his dreams and stay humble. His parents are Albanian from Malesia, Montenegro. "Having older siblings and parents who are so deeply involved in the Albanian culture helps me stay true to who I am, and my roots," he says.
Growing up, Stanaj sang mostly Albanian songs, which he admits he still loves dearly. He often shares videos and images of his younger self joyfully performing in small Albanian weddings and gatherings. From a young age, his family has shared his passion for music. He says he developed a desire for singing from playing instruments with his brothers. "I am not sure that I would have had the same success without having my family guiding and supporting me every step of the way."
When it comes to the styles of his music, Stanaj does not think he sounds like anyone in particular, but people have compared him to a mix between Sam Smith, Justin Timberlake, and Alicia Keys. Yet, he is unique in his own way. You have never heard anyone quite like him. You can listen to a song and immediately know it is his. This is a sign of a true artist and he plans to keep it that way. In a world full of mass-produced music, Stanaj thinks that being unique will prevail. As far as we are concerned, Stanaj's dream built on hard work, determination, and team effort has already prevailed.