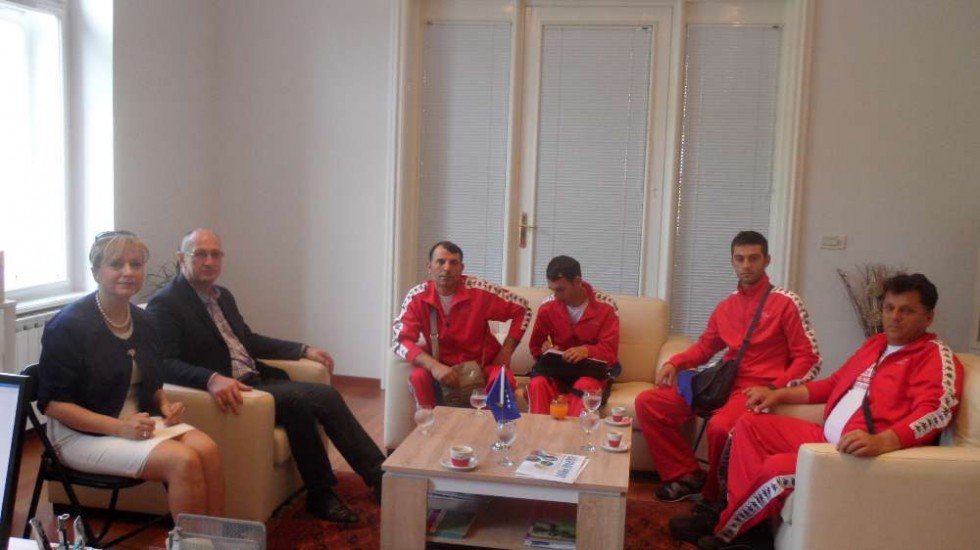 "Freedom Journeymen" reach Zagreb
By: Valon Xoxa May 28, 2014
The "Freedom journeymen" are a group of people that have begun their journey from Gjilan on the 30th of April (9:30 AM), specifically from Zahir Pajaziti square, with the intent of reaching Brussels. The Journeymen have arrived in Zagreb (on 26th of May) and have paid a visit to the Kosovar Embassy. 
The team, consisted of four members: NIjazi Ajdini, Jahi Mustafa, Xhevdet Shabani and Liridon Gashi; had the chance to meet with the appointed Kosovar Ambassador  Mrs. Geci Sherifi as well as General Esat Collaku, the latter of which expressed an interest on logistical support to the journeymen.
During the meeting, the "Freedom Journeymen" described their experience with the travel so far. They informed Mrs. Geci-Sherifi on their upcoming stops in Slovenia, Austria, Germany, Belgium and Brussels. Ambassador Geci-Sherifi thanked the journeymen for their courage and motivation. Mrs. Geci-Sherifi, explained that the symbolism of the journey, "5 million steps for one step" has a great meaning and will be a great motive for promoting support to the idea of visa liberalization for Kosovar Citizens.