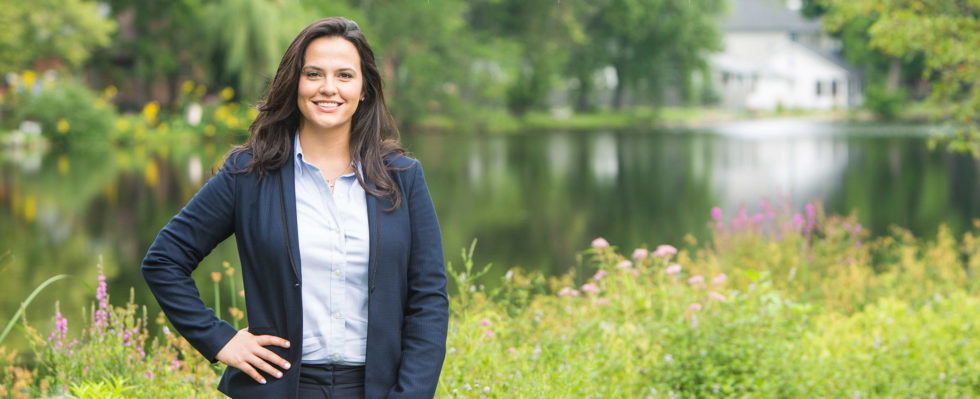 Suzanna Shkreli gives a voice to the voiceless with her motivation and success
By: Kosovo Diaspora June 6, 2018
The daughter of Albanian immigrants from Montenegro, Suzanna Shkreli is the embodiment of the American Dream thanks to her hard work and dedication.  After finishing law school at the age of 24, she became a lawyer in Macomb County, Michigan prosecuting homicide, drug crimes, assaults, and domestic violence. Her determination propelled her in the national limelight when she ran for the U.S. Congress in 2016.
The congressional race for Michigan's 8th district was important, not only for Suzanna but also the community that she sought to represent in Washington.  When asked about the main points of her campaign, she said:
"I fought for Michigan's middle class families by focusing on the issues that affected them. I wanted to help grow the economy, by supporting small businesses that would create good-paying jobs, and strengthen our middle class. I spent my childhood helping my family's diner grow and I know that small businesses are the lifeblood of our communities.
I fought for the full development of our renewable energy sources, and sought to move us closer to full energy independence. By utilizing new technology and reconfiguring our energy sources, we can create new good jobs and serve as an example on combating climate change without sacrificing economic growth.
Another major issue that was foundational to my platform was fighting to build a strong public education system that will provide students with the skills they need to compete in the 21st century global economy. Improving schools and ensuring the best education possible for Michigan families starts with investing in our schools from pre-kindergarten to high school graduation and beyond. Access to quality educational opportunities is key, but affordability issues must also be addressed to ensure every child in Michigan can succeed. As a product of Michigan's public schools and universities, I believes we must make college and higher education more affordable for everyone who wants to earn a college degree.

I fought for women. In Congress, I wanted to vote to reauthorize the Violence Against Women Act (VAWA), which protects domestic abuse survivors. I wanted to pass legislation like the Equal Pay for Equal Work Act, which further prevents discrimination in the workplace. Most importantly, I believe women are able to make their own health care decisions and am dedicated to fighting back against politicians who want to outlaw a woman's right to choose."

Suzanna has since returned to her job to give a voice to the defenseless by prosecuting crimes against children in the Child Protection Unit. When asked about her job, she says this with full confidence: "It is a difficult job and heavy on my heart, but I find a great sense of fulfilment in being able to advocate for children in the courtroom. I am in a position to defend the defenseless, to give a voice to those who might not otherwise have it, and to give those children a piece of mind that their perpetrator won't be able to hurt them again. That work has been the honor of my life."
Suzanna is thankful for her parents who worked hard to ensure that their children could pursue in a high-quality education that would open doors to a bright future. As an Albanian-American, she is conscious and proud of her heritage.  Her background shaped her political identity from an early age. As a child, she watched President Clinton's statement and commitment to end the ethnic cleansing and humanitarian crisis in Kosovo. This solidified in her the values and principles of what it means to be American – that a democratic, free and independent nation would stand to protect those in need.  
During her congressional campaign, Suzanna was endorsed by President Obama, who understood and appreciated the history of friendship between Albanians and Americans. She also introduced President Clinton at a rally in Michigan during Hillary Clinton's presidential campaign.  
Many young Albanians, especially girls, reached out to Suzanna to tell her the positive impact she had made on their lives by emboldening them to fight for what they believe in.  "Losing is hard, but moments like that fill me with pride and remind me of how vital it is to keep going," she said. "The fight for justice and a better tomorrow is an honorable fight, and an achievable reality no matter where you live, and that we owe it to one another to pursue it together."
Albanian Diaspora in America
Suzanna believes that the role of the diaspora in America and abroad should be to create organizational support for Albanians across the world to advance in all areas of life such as growing businesses or running for public office.
"The diaspora should be unified as first and foremost, we are all Albanians, regardless whether we are originally Malesia Madhe, Macedonia, Albania, or Kosovo," she said.
She remembers how the diaspora came together to help during the war in Kosovo and calls for similar mobilizations for other causes. "The diaspora has not coalesced around a cause of that magnitude since, and it is time to do so again. There are many causes for Albanians to fight for, whether it be integration into the EU or access to medical treatment in Albanian lands. These issues need the attention and dedication of the diaspora, and we cannot wait until there is a tragedy to spring into action. There is a new and vibrant generation that is eager for change and opportunity, and with the commitment of the diaspora, a better tomorrow exists for Albanians worldwide."
She suggests that Albanians should strengthen their own networks by providing opportunities to the younger generation, their communities and abroad. For example, business owners can provide the chance for young Albanians to work at their facilities and have them learn their trade and hone their skills.
It is evident that Suzanna is committed to contributing to making the world a better place. She has the will to fight for what is right and the fire to carry on.