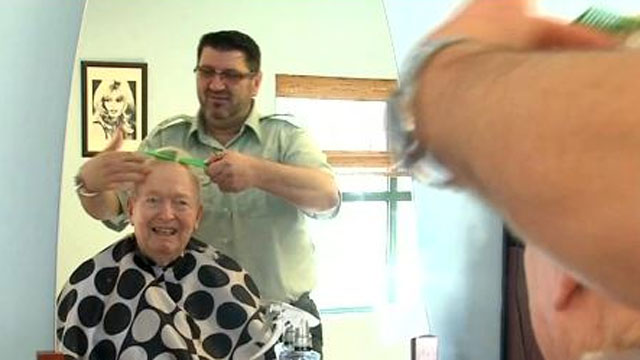 Saliu Salutes The United States Veterans
By: Valon Xoxa November 14, 2014
Read on the great story of giving back, where Nazim Saliu, a Kosovo refugee,  found a way to thank the United States Veterans for their contribution to Kosovo. The story was published by Eye Witness 3 News and could be found here.
A Kosovo native, who is a barber in Rocky Hill, said he was brought to the United States with the help of American soldiers.
On this Veterans Day, Nazim Saliu gave back to them by cutting their hair for free on Tuesday.
Saliu, also known as "Noli," is a barber who is living a dream in his Rocky Hill salon. It's a dream that didn't seem possible when he was in his native Kosovo in the late 1990s.
"When I was in a refugee camp, how they help me and brought me here," Saliu said. "It's my favor to do."
Saliu and his family were chased out of their native Kosovo where war was leaving thousands dead. The United States Military came to the rescue and Saliu got a new chance in this country.
After living in Minnesota for about nine years, Saliu said he knew it was time to make some kind of change and that's what ultimately brought him to Connecticut where he has been living with his family and cutting hair now for almost seven years.
That is why Saliu offered free haircuts to any veteran, police officer or firefighter all day on Tuesday at his salon Noli's.
"I like to help pay back whenever they need me," Saliu said.
Read more: http://www.wfsb.com/story/27355829/rocky-hill-barber-to-give-veterans-free-haircuts#ixzz3J3WNN8Ng