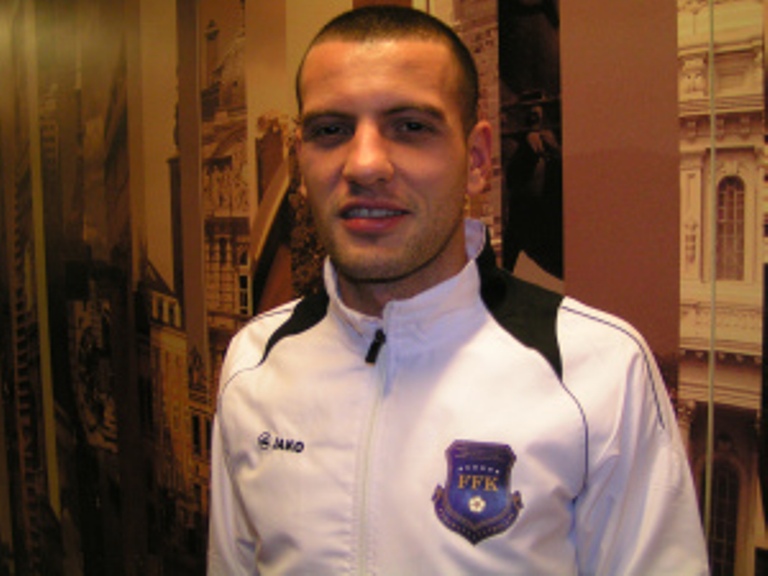 Metaj: 'In dressing room next to Serbian'
By: Stefan Van Dijk March 6, 2014
He used to play for the national youth teams of The Netherlands, Shkodran Metaj. The 26 year old was the only Dutch Kosovar in the selection for the historical match between Kosovo and Haiti. That made him the only player of his team, FC Emmen, to go for an international trip.
You've played for several youth teams of Oranje, the national team of the Netherlands. Didn't you dream of playing in the 'big' national team of Holland?
Of course, I would love to play for Holland. I used to be very proud to play for the youth team. I learned to sing the national anthem and I really felt unity when we were playing. The fact that I am now a part of the national team of Kosovo is something beautiful. The Kosovo team has always been in the back of my head.
How do you experience all the international press and the crazy fans?
We are having continuously a camera team from France and from Sweden around. Even in the dressing room. I have seen journalists from Germany, Switserland and at least three from The Netherlands.
I was pretty relaxed the days before the match. But the morning before the game, there were fans singing and dancing in front of our hotel.That really touched me. For that reason I also think that it is more interesting for a foreign team to play in Kosovo, than to play in San Marino, without many fans in the stadium.
How do you feel connected with Kosovo?
I'm in contact with everyone from  my original village,Studenica, which I left when I was five. Every one over there is family. These days it's pretty easy, because everyone is having Facebook and Whatsapp. In the summertime I always try to go there for like two weeks. It really feels home. My (non-Kosovar) girlfriend went with me once, and she enjoyed it, now her mother is curious too.
You are living in the north of The Netherlands. Are you the only Kosovar over there?
No no, also my parents – his father is on the picture – are living there haha… and two other families. When I tell people that I am from Kosovo, some people think that it is something like Zimbabwe. I like to explain that it's just 2,5 hours flying from Holland, that we had a difficult history, but that we are having a free country now.
Playing in the West also means that you play with Serbians. How do you experience this?
I used to play in a team with two Serbians, DušanTadić and Goran Lovre. I always sat in the dressing room next to one of them. It might sounds strange, but I always had a good time with them, but we didn't talk about politics. Although, the day that Kosovo got independence, I told Lovre: "today we aren't brothers anymore, but neighbours". He smiled about it.
Interview by Stefan van Dijk.