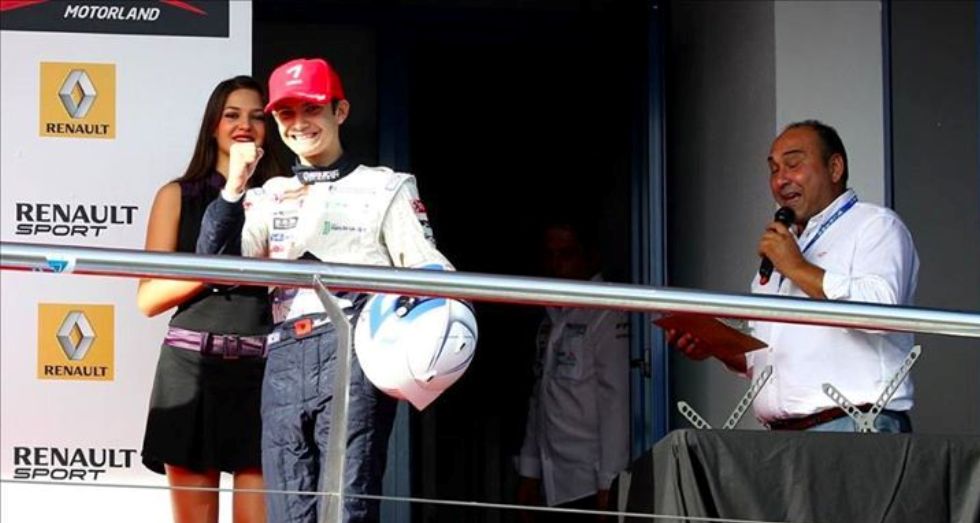 Gjergj Haxhiu: The Promising Racing Champion
By: Kanarina Shehu March 16, 2015
Gjergj Haxhiu (15) is a young and extremely talented racing driver from Prishtina, who was born and raised in Switzerland. He is the Swiss champion and runner-up world for youth in Formula 4.
Despite being the youngest and competing in first season, Gjergj Haxhiu won the race at famous Circuit de Jerez, Spain.  Before F4, Gjergj successfully won KF3 Karting Championships in Switzerland. He made the jump to single-seaters, thus competing in French F4 Championship for 2014 Season.
It all started unexpectedly! During a family outing, aged only 6 years old, Gjergj asked for a ride on the go-kart track. After the first lap, he got very passionate about motorsport. Being only 7 years old, Gjergj debuted in a competition with his first kart and brought himself to podium often. His achievements on and off the track are truly inspirational and are being recognized in professional motorsports.
GJERGJ'S TIMELINE OF ACHIEVEMENTS:
2006 – Gjergj discovers the passion for Go Karts.
2007 – With support from his father Shkumbin, Gjergj enters motorsports and attends few competitions ranking 2nd on Swiss Romand Championship Mini.
During competitions on Swiss Championships, WSK Master Seriers, Gjergj managed to cruise wictories and be in podium very often.
Local and International media started already to spot the talent of Gjergj covering a good coverage on his karting victories.
Gjergj was flawless on Super Mini category winning the Swiss Championship and Bridgestone Cup in Switzerland.
2012 – Gjergj wins 2012 Swiss Championship in KF3 category, collecting 303 points and confirming the commitment to the sport.
2013 – Gjergj defended the title of Swiss Championship in KF3 category again in 2013.
2014 – Gjergj made a debut in French F4 Championship, being among the youngest to enter French F4 Championship.
Today, Gjergj is 15 years old and competes in second season at the French F4 Championship. Values of this young and promising talent are inside the family that supports him. Gjergj is really proud of his origins! He holds in his car the Albanian and Swiss flags,  while the eagle and Gjergj Kastriot symbols are drawn in his helmet.
His achievements made him a natural ambassador to Karting. Gjergj is deeply ambitious and aims to race at the highest level. Below you can watch his story covered by Top Channel:
Gjergj's goal is to reach Formula 1!  Sponsorship is essential for him to compete and deliver results over the next years.  To learn more about his career and reach for support, you can check his official website or contact him directly via [email protected].