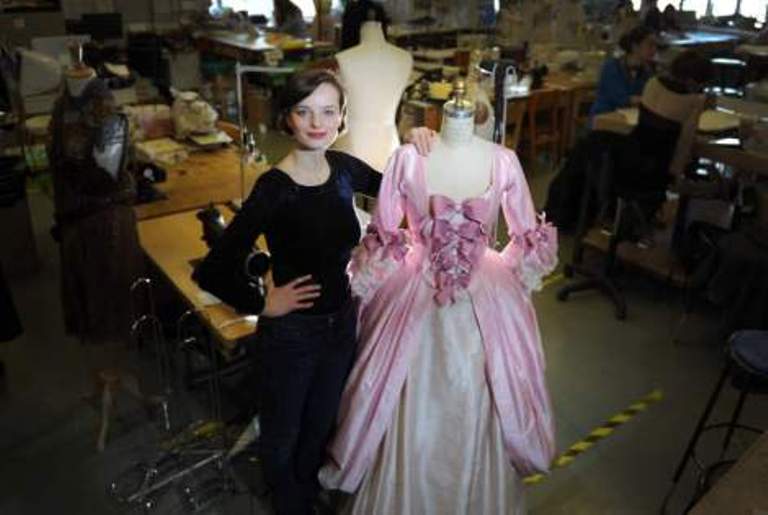 From Kosovo to Carnegie and beyond: Albulena Borovci conquers costume design
By: Rilind Latifi February 10, 2014
Albulena Borovci is a costume designer experienced in film and theater projects in the United States and Kosovo. She finished her Bachelor of Fine Arts (BFA) degree in Scenography at University of Prishtina's Academy of the Arts and also spent one year studying at the University of Montana.  She holds a Master of Fine Arts (MFA) in Costume Design from Carnegie Mellon University, where she was awarded the Bess Kimberly Fund Scholarship.  Only last year, Albulena received two prestigious awards: the USITT's Zelma H. Weisfeld Design & Technology Award 2013 and the CSA's (Costume Society of America) Early Career Award of Excellence in Costume Design & Technology 2013.
Kosovo Diaspora talked to Albulena about her education, professional work and plans for future.  

KD: Tell us a bit about your background and how you ended up studying in the US?
My first time in the U.S. was through a work and travel program; it was summer and I was 19 years old. At such transitional and delicate age, meeting people of different cultures and backgrounds and being exposed to infinite options and opportunities broaden my horizon for the years to come. It was that summer that I could save enough to go see a Broadway show for the first time.
Thanks to an Open Society scholarship, I attended University of Montana as an exchange student. I took a lot of costume design classes that year and quickly learned that this medium was an incredible tool to bring characters to life!
During my one-year stay I found Montana very welcoming and the people incredibly hospitable and nice. I still keep contact with my host family in Montana and am eternally thankful for all their help and support.
KD: How was your experience at Carnegie Mellon University? 
I had interviewed with one of the faculty at Carnegie – who later became my mentor – on an early spring morning through Skype and had a great feeling about this school and their program. A couple hours later, I was incredibly happy to receive my acceptance letter from the School of Drama at Carnegie in their Costume Design program – one of the top programs in the country. I was so honored to be their pick! Carnegie Mellon was wonderful, hard, competitive and again wonderful. I felt supported from the faculty and teachers all the time. Due to CMU's strong curriculum and exposure to a wide range of aspects in the design process, I was able to develop a portfolio, which qualified me for competitions and awards in the field.
KD: What projects are you working on now?
At the moment I am designing a new play called Sila, which will have its world premiere this April at the Central Square Theatre in Cambridge, MA. I am very excited to be designing this play since it carries an incredible message about our planet Earth. It deals with a hot topic in the last decades – the climate change and its effects on the human and animal existence. Sila is described as "the breath – the great life force". It sure carries a powerful name.
KD: How do you see the art and culture scene in Kosovo?
It's hard for me to answer this – my involvement in the art and culture scene in Kosovo, unfortunately, has been limited during my short visits in Kosovo. I am surprised, for the good, from our young generation of directors and artists. Regardless of all the difficulties that come with creating art in Kosovo, I am eager to collaborate and contribute on any opportunity that arises in the near future.
To find out more about Albulena and her work, visit her website at www.albulenaborovci.com