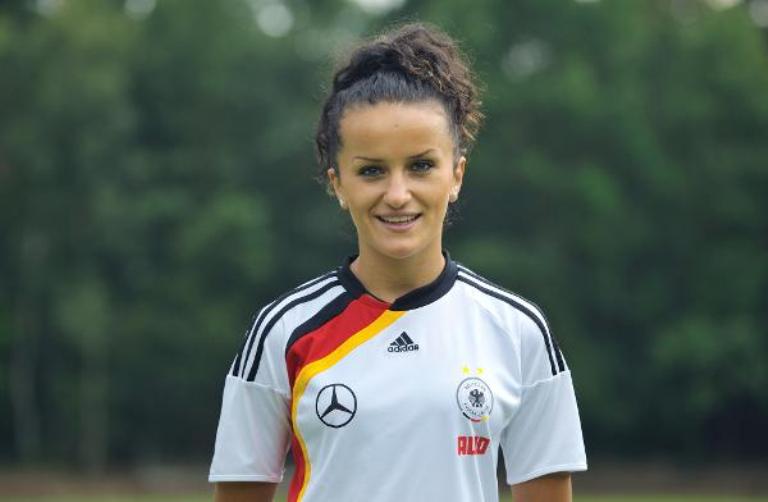 For World Cup Host Germany, Diversity Is the Goal
By: Kosovo Diaspora July 11, 2012
Fatmire Bajramaj and her family fled to Germany from Kosovo as Yugoslavia broke apart in conflict in the early 1990s. She began playing soccer as a 6-year-old without her father's knowledge or permission.
At first, she played at recess and after school with her older brother. Secretly, she joined a club team, using equipment lent by her brother and cleats borrowed from a teammate that she returned after each practice and game.
"My father wanted me to be a singer or an actress," Bajramaj, who is known as Lira, said in a recent telephone interview, speaking through an interpreter. "He told me that football was for men, not for women."
Yet today, at 23, Bajramaj (pronounced BUY-rah-mye) is a star midfielder on the German women's national team, the lone Muslim player on a squad that is seeking its third consecutive World Cup title, beginning with Sunday's opening match against Canada before a crowd of 70,000-plus at Berlin's Olympic Stadium. The 16-team tournament, which features the United States and Brazil as the expected top challengers, will end July 17 in Frankfurt.
German soccer officials hope the World Cup will provide a marketing boon for the women's game and will also enhance their efforts to promote the country's national sport as a means of social integration. In Germany, a third of all children are born to immigrant families, and the issue of assimilation — or the lack thereof — has become an urgent political concern.
Building on the success of the 2006 men's World Cup in Germany, German soccer officials said the sport's national federation had spent more than $27 million on a project to encourage integration. The program includes the building of 1,000 small fields, developing a joint arrangement between soccer clubs and 17,000 chosen schools and devising an ambassador campaign featuring star German players like Bajramaj and Mesut Özil, a midfielder of Turkish descent on the men's team.
A parallel program started by a university professor, called Football Without Offsides, encourages girls, most from Turkish, Arabic and Eastern European backgrounds, to play soccer at school at ages 9, 10 and 11 — sometimes with their mothers playing alongside them.
Theo Zwanziger, the president of the German soccer federation, is fond of saying, "It does not bother the ball who hits it."
Heike Ullrich, the head of women's soccer in the German federation, said this means: "Football is for everybody, man, woman, black, white, green, all races, all religions. Everyone should have a chance to come in contact with the ball. It unites people."
When the Bajramaj family arrived in Germany from Kosovo in 1993 and settled in a refugee center, Lira was 5. She said she felt resentment from some locals as she went to and from kindergarten, hearing taunts like "gypsies" and "go back where you came from." At 6, she joined a soccer club in Giesenkirchen, and later played in nearby Mönchengladbach.
"I was the only girl," Bajramaj said. "At first, the boys didn't accept me. When they saw I could play football, they decided to play with me. Then they were fighting about which team I should play with."
Two years after she began playing, Bajramaj said, her father, Ismet, attended a match to watch her older brother, Fatos, and by accident learned that his daughter had also taken up soccer. His response was surprise and acceptance, she said, not disapproval.
"He told me I was very good," she said. "Now he is my biggest supporter."
In 2007, Bajramaj came on as a late substitute as Germany won the Women's World Cup final over Brazil. A year later, she scored both of Germany's goals in a victory over Japan for the bronze medal at the Beijing Olympics. In 2010, her club team, Turbine Potsdam, won the inaugural European women's Champions League title.
"Playing football is what helped me integrate," Bajramaj said. "First, the language. And later I learned a lot about the culture and the cities. In Germany, I am welcome because I play football. And Muslims can see that even though I'm in football, I'm very religious."
In addition to Bajramaj, three other players on Germany's Women's World Cup team have immigrant roots from Cameroon, Italy and Romania. Germany also has about 30 female players from immigrant backgrounds on its youth national teams, soccer officials said. A handful of Muslim women also play in Germany's professional league, Bajramaj said. Still, cultural and religious barriers exist.
Many Muslim families do not want their daughters playing in shorts, with their arms and legs and heads uncovered. Yet, at the elite level, head scarves that also cover the neck are prohibited by FIFA, soccer's world governing body, for reasons of player safety. The governing body also bans the expression of religious beliefs on uniforms.
Three years ago, a German girl was given a red-card expulsion from a youth match for wearing a head scarf, said Ulf Gebken, the founder of Football Without Offsides and a specialist in sport and social integration at Carl von Ossietzky University in Oldenburg, Germany.
The German soccer federation was petitioned, and it amended its rules to allow head coverings for lower-level leagues, Gebken said. Ullrich, the head of women's soccer in the federation, said: "When we get this question, I say to people, 'Just let them play.' If it's not the highest league, it's not a problem."
Football Without Offsides has expanded to about 300 schools and 80 club teams in 120 German cities, Gebken said. A key element of the program is inviting young girls from immigrant families to play at school with their mothers — outside the presence of boys.
"We're not going to solve all the problems," Gebken said. "But when we make tournaments of daughters and mothers, the mothers are very happy their daughters are playing football. Then we have a chance. If a girl is a very good swimmer or runner, hardly anyone notices. But if the girl is good in football, the family is proud. The girls will come out and play, and there is the chance for integration and emancipation."
So far, five Muslim women in their late teens and early 20s have become referees, Gebken said. What is needed, he said, are many more female coaches. Half of the club teams in his program still have male coaches.
As of now, most German girls from immigrant families wear the jerseys of their favorite players on the men's national team, not the women's team, Gebken said. Players like Özil and Sami Khedira, a midfielder with a Tunisian father. At the 2010 men's World Cup in South Africa, 11 of Germany's 23 players came from immigrant backgrounds and the team was widely celebrated for its multiculturalism.
"Last summer, many Turkish people were proud," Gebken said. "If Lira Bajramaj is a star in this World Cup, a lot of people will look at her. This is very good marketing for women's football. Will it help integration? We will see. Maybe girls will start wearing the jerseys of the women's players in Germany."
For World Cup Host Germany, Diversity Is the Goal
New York Times article about Fatmire Bajramaj
By JERÉ LONGMAN
(June 25, 2011)
Source: http://www.nytimes.com/2011/06/26/sports/soccer/for-host-germany-in-womens-world-cup-diversity-is-the-goal.html