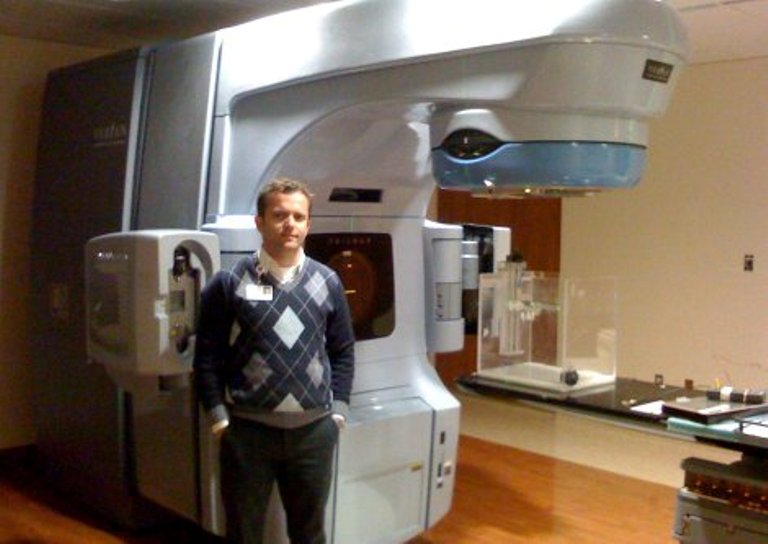 Building on his love for physics, Kujtim Latifi researches cancer treatment
By: Rilind Latifi March 3, 2013
Kujtim Latifi is a medical physicist and postdoctoral fellow in the Department of Radiation Oncology at Moffitt Cancer Center in Tampa, Florida where he does research in ventilation imaging. From a refugee during the war in Kosovo to his PhD studies in Applied Physics, Kujtim was always fascinated by physics – an intriguing science seeking to answer the ultimate question "Where do we come from?"
Kujtim finished his Bachelor of Science with major in Physics and double minored in Mathematics and International Studies in 2004 from the University of Denver in Colorado. His love for physics, nature, and the universe led him to pursue a graduate degree at Northern Illinois University (NIU), where he studied Physics and Materials Science. Kujtim's research focused on the study of Ferroelectric thin films (nano-materials), while working at Argonne National Laboratory and studying films' properties.
In 2007 Kujtim moved to Tampa, Florida to be with his fiancé and shortly after enrolled at University of South Florida (USF) as a PhD student in Applied Physics. He was one of the first students to start the USF Medical Physics Program, which is a joint program with Moffitt Cancer Center. In the Fall of 2011, Kujtim successfully defended his dissertation on Ventilation Imaging Calculated from Four Dimensional Computer Tomography (4D CT). When asked to explain his dissertation and current work for non-physicists, Kujtim says:
"Ventilation is one of the functions of our lung. The air and the amount that we breathe into the lung that feed our body with oxygen directly depends on how functional is the lung. This is more important for people suffering from Lung Cancer. During a radiation therapy treatment, high energy X-rays enter the body from different angles and are designed to hit the target (which is the tumor). However, because these rays have to travel through other normal tissue, they do deposit radiation dose along the way. Radiation is good at killing tumor cells, but it also damages normal cells. In this process, an already compromised lung is going to be even weaker as a result of radiation. Imaging its function (such as ventilation) allows us to know where the good functioning parts of the lung are and then avoid these areas when treating the patient. Currently, the standard way to image lung function is by nuclear imaging. Typically a patient inhales a nuclear gas (which is techetium-99) and then lies down on a table and a nuclear imaging scan captures the decay of that radioactive gas and in the process the lung function is imaged. This process takes about 30+ minutes. Our method does this without the use of nuclear imaging. It only uses 4D CT; every patient that gets radiation treatment has to have a 4D CT for treatment planning purposes, so no additional scans are needed."
Kujtim plans to complete his postdoc appointment and find a permanent staff or faculty position. He wants to continue research in cancer treatment in order to help those suffering from cancer. On the long-run, he would like to get involved with researchers from Kosovo in the field of medical physics. The diaspora is not only a source of monetary investments, but also a source of educated people with vast experiences in various fields such as medicine, engineering, sciences, finance, etc. Kujtim says that increased training and knowledge-transfers by the Kosovo diaspora would aid the further development of natural sciences in the young country.
Kujtim's full PhD dissertation can be found here.