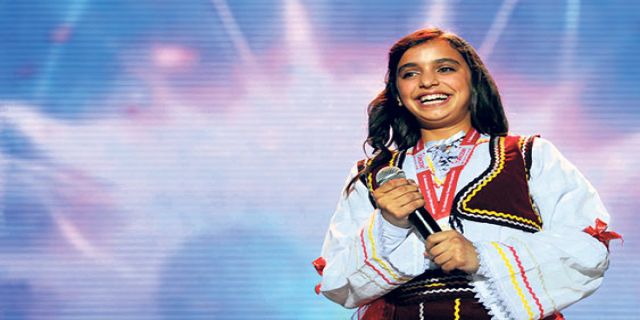 Anita Syla raised the flag of Kosovo in Bucharest
By: Kosovo Diaspora July 16, 2014
By Alketë Spahiu
Anita Syla is a young and talented singer. Although she brought fame from Romania to both herself and her country, she is very humble, and it's difficult to notice her apart from other children riding the bikes or on roller-skates in the neighborhood. When I went to interview her, she was riding her bike, one of her passions aside from music, acting and dancing. She received us in her beautiful garden where we had a conversation about her first but significant steps in the journey of music.
Anita started singing as a child, and her voice was so powerful that her neighbors always complained that she was waking their babies. But now they are proud of her achievements and have forgiven her, considering her an asset to the neighborhood and beyond. This is why she likes Gjilan more than Prishtina, and is always enthusiastic about spending time in her hometown.
Anita was first noticed through a video posted on Facebook and on YouTube where she was recorded singing a cover of Rihana's "Diamonds." She was complimented for the inner beauty of her voice and continues to perform covers today.
Her first major success came when she competed in a song contest in Gjilan and then in Prishtina. Her performance won her a scholarship to the International School of Prishtina, where she is currently studying. The prize brought with it twice the satisfaction because attending a Turkish- American College is the dream of every student here in Kosovo. The International School of Pristina's management decided to give a grant to Anita in order to pursue singing courses in Gjilan with Professor Hekuran Bllaca. Anita told Kosovo Diaspora that her main supporter through all of it has been Professor Jasemin Karabina, who has inspired her to continue with her dreams in music.
Before heading to Romania, she travelled throughout Turkey in an excursion organized for the participants of the festival. The "Festival of Languages and Cultures" final took place in Bucharest, the capital of Romania, where Anita represented Kosovo with the song "Firuze," winning the competition against 20 contestants from different countries. Her trip, and especially the first place win in Bucharest were a moral victory for Anita, despite the fact that Romania hasn't recognized Kosovo yet.
"For me personally, the first place [win] was a satisfaction but not a very big deal. I am happy that Romania recognized Kosovo through the arts and I was the protagonist. 'Firuze' is a Turkish song, which was better to reach a wider audience but I will be happy to sing in Albanian once I have another occasion. It's a great opportunity to represent your country through music. Only art is free of barriers and fences. [While] politicians are ambiguous, artists are the best ambassadors to negotiate and represent [people]," Anita told Kosovo Diaspora.
Because music is a unique and universal language, Anita's success was received with special enthusiasm not only at her school, but everywhere in Kosovo. Before her performance, a short video was presented with views from different cities of Kosovo.
Anita Syla discussed her difficulties upon arriving at the airport in Romania. After her victory in Bucharest, Anita was interviewed by a number of journalists.
"They were interested to know more about our food and how the cities are. I told them about our delicious flia and how the towns are interesting and unusual in a positive way. I hope I gave my contribution in the development of tourism," said Anita.
After Bucharest, Anita travelled to Germany where she participated in a bigger concert. She was asked to sing "Firuze" twice and at the end of the festival she performed the famous Turkish song "Yeni bir dunya." In addition, Anita was asked to sing in Albanian.
Anita is a very talented and motivated representative. Her magical voice will be a reminder to all countries that the beauty and peace of music is easier to establish good and sustainable relationships.