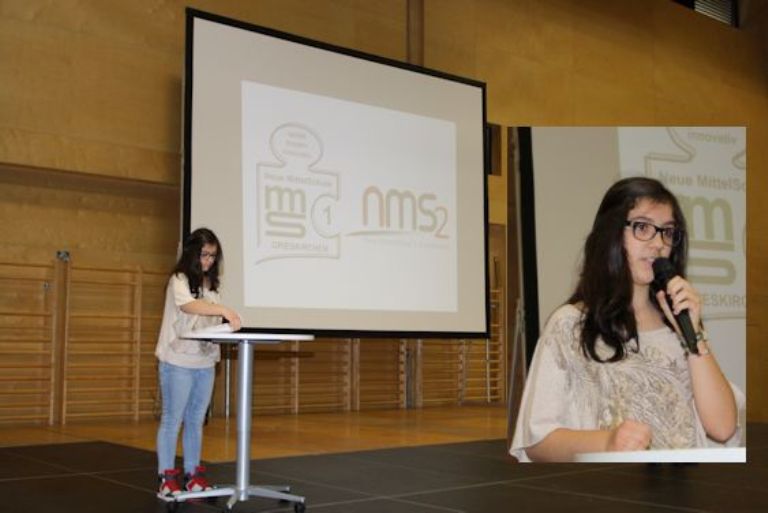 Alberina and her award winning essay
By: Valon Xoxa April 15, 2014
Alberina Shabani is a 13 year old passionate writer who has won the first place with her essay at the "Say Multi" competition. An annual competition held in Austria where children are encouraged to share their essays.
Alberina's essay is written in such a way where her grandfather narrates the hardships of children in Kosovo, orphans of the past war as well as the child workers whom are engaged in daily struggles of securing food. Alberina's essay was titled "Education is a human right" a strong and important message aimed at improving the living conditions of many struggling families in Kosovo.
The Jury from the Economical Integration Society, the actual initiators of the competition, has chosen a total of 16 essays from the competing 407 that had been submitted from throughout Austria. Only three from the total competing works had been chosen as winners.
At the final evening event, Alberina had the chance to hold a speech in both German and Albanian, where it is important to note the presence of Vienna's mayor Mr. Michael Häupl, Minister of Foreign Affairs Sebastian Kurz, Alev Korun from the Austrian parliament as well as businessmen and family members.
The Kosovan (Alberina), currently living in Grieskircheni of Austria has been chosen alongside two other youngsters to hold a speech as a mean of appreciating her work.
The original article was posted at Albinfo.ch – Click here to read the original article.