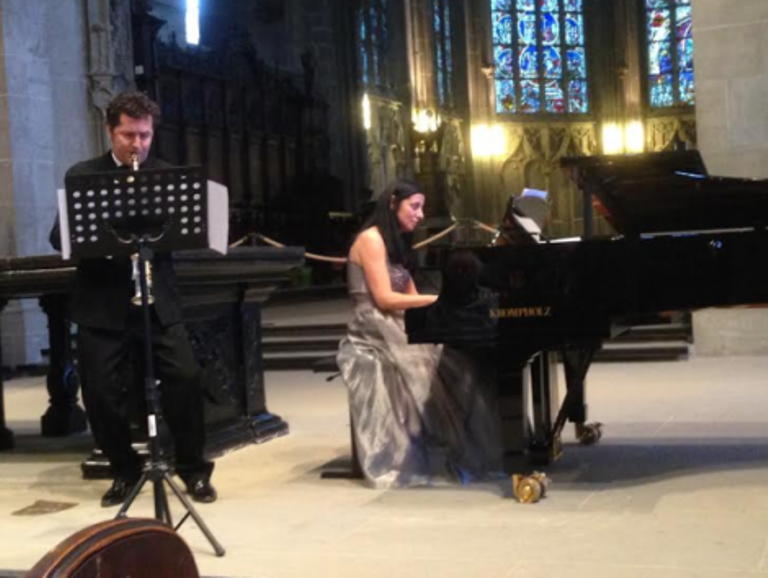 Albanian school of music in Bern
By: Lirim Veliu March 14, 2014
Dhruata Lazo, Zija Bejleri, Gjergi Bejko, and Klaidi Sahatçi are scattered throughout Germany and Switzerland, but they are unified by their passion for music. This has now translated into their profession. The four of them are recent guests of the Bernermünster Cathedral in Bern, Switzerland, one of the country's largest concert halls.
Sahatçi: From Zurich to Scala to Zurich
"Music enthusiast Zhaklina Dhimojani-Blättler, an Albanian living in Bern, is responsible for us being here," Sahatçi says. Prior to establishing himself in Zurich, Sahatçi had worked for the Scala Theater in Milano, Italy. "Before that, I was a prime violinist in the Chamber Orchestra of Switzerland. After having spent some time in Milano, I applied for the Tonhalle Orchestra of Zurich. There was fierce competition, but I prevailed and have returned to Zurich."
When asked about differences between his work in Milano and Zurich, Sahatçi points out that he was performing opera music in Milano and intimate, symphonic music now. "Here, I am the prime violin and have the opportunity to play a violin made by Master Stradivari, a rare privilege for any artist."
What is the secret to success of what can be called "The Albanian School of Music"? Klaidi was asked. His reply: "It is the passion and the sense of sacrifice that separates us from others; the internal forces that we turn into volcano when representing our country."
Monetary returns to aid humanitarian project for kids in Albania
"The aid collected will be sent to kids in need in Himara, Albania," states concert organizer, Dhimojani Blättler. She states that she intends to organize another similar event with classical music, with talented Albanian kids abroad.
The Bern concert that atracted a lot of art followers displayed most splendidly the qualities of 4 Albanians, each in their own instrument. Klajdi Sahatçi on violin, Dhurata Lazo-Bejleri and Gjergji Bejko on piano and Zija Beljeri with his soprano sax played pieces of world famous composers like Mozart, Beethoven, Schuber, Donizeti, Bellini etc. Albanian works were not absent in this evening; the concert is given a diversifying flavor with works of Albanian composers like A. Peçi and E. Rushiti.
This Sunday's agenda included the promotion of the CD "Albanian Memories" with Klaidi Sahatçi and pianist Dhurata Lazo.
The original article was posted at Albinfo.ch Click here to read the original article.