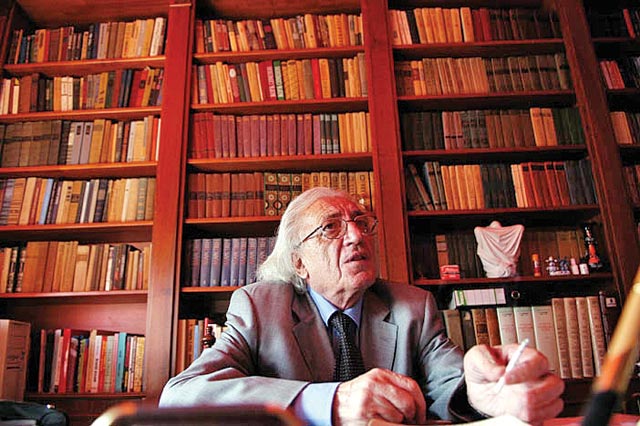 Albanian national poet honored with Italian prestigious Carlo Levi Award
By: Kosovo Diaspora October 26, 2013
Dritëro Agolli could not participate but his daughter Elona read his letter as she received the award on his behalf.
The 82-year-old poet Dritëro Agolli received the prestigious Carlo Levi award on October 5, 2013. The sixteenth ceremony for the Italian national literacy award was held in the small town of Aliano, in southern Italy. The Aliano mayor, Luigi De Lorenzo, and other local dignitaries took the stage to congratulate the honorees. Raffaele Nigro, a distinguished Italian writer and scholar, as well as friend of Albania, interviewed them after.
Though the elderly Albanian poet was unable to attend, his daughter Elona received the award on his behalf, sharing an emotional letter he wrote:
Dear Friends, 
I should have been there with you today, but I am like that old horse who has traveled too many miles, whose ribs are showing, whose horseshoes have fallen, but whose mind keeps running. I will not bore you like some Parliament member. I thank the Jury of the 16th Edition of the national literacy award, Carlo Levi, and in particular Rafaele Nigro, my good friend and distinguished writer, whose works are now known and received with love from Albania, from both readers and critics. 
It is with great satisfaction that I receive this award, which bears the name of Carlo Levi, the great painter, publicist, and writer. The anti-Fascist writer and dreamer of a new world without poverty, social injustice, and wars. If only a miracle could happen and I could shake the hand of Carlo Levi himself. Now that would have been the greatest award of them all. The Albanian literature, from its first steps, has been nourished by the Italian literature, art, and culture, because we are neighbors. As they say, there is only a wall of water that divides us. Seagulls are not the only ones who fly above this wall of water. Poetry, prose, music, and all the arts make the same journey. So does this small thank you note, brought to you by my daughter Elona, together with my best gratitude for the honor and the emotions that you gave me with the Carlo Levi Award. No one enjoys prizes as much as the old men and children do. 
The original article was posted at the Ilyriapress.com Click here to read the original article.