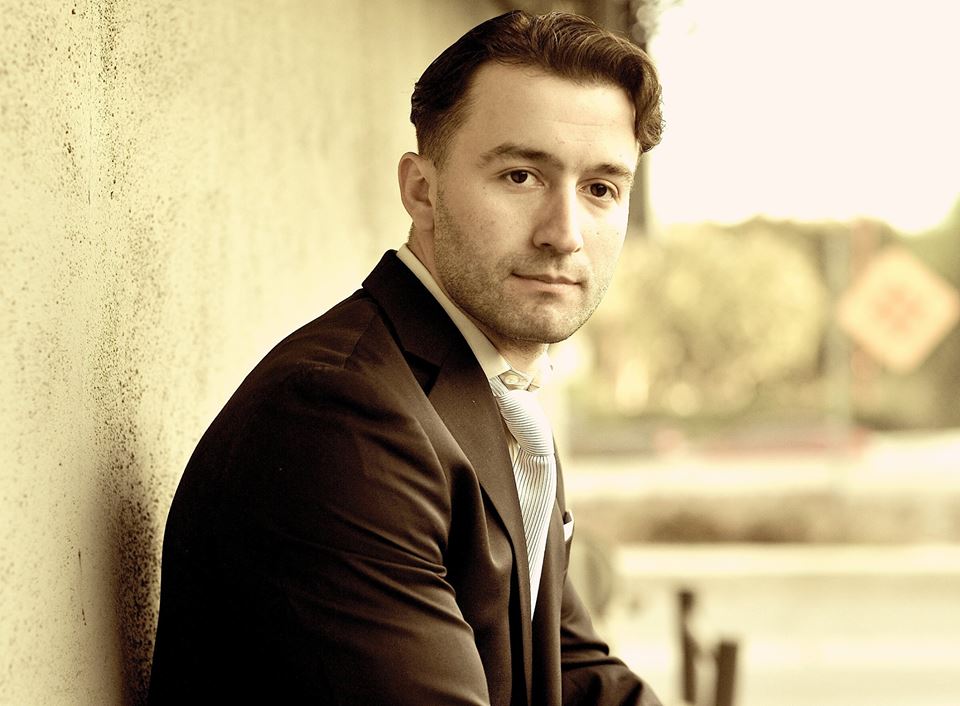 10 Reasons Klement Tinaj is the One Actor to Look Out for in 2015
By: Kosovo Diaspora April 11, 2015
Klement Tinaj is one of the most interesting actors to follow these days in Hollywood. He is known for his great versatile talent and has taken on fascinating roles on both theatre and film. Tinaj received his B.F.A in Theatre Arts and his MFA in Acting for Film. He was awarded the Excellence Award in Drama during his studies, as well as the "Certificate of Merit" and "Certificate of Recognition" for his academic achievements. Klement Tinaj founded Klement Tinaj Foundation to give back to the community by helping feed the homeless and the hungry. Tinaj has an impressive year ahead and here are ten reasons he is the ONE actor to look out for in 2015.
#1 He can race cars in Fast & Furious 7
Furious 7 hit the theatres today. Klement Tinaj was cast as the Race Wars Racer, adding to the exotic car collection of this action thriller. "We wanted to make Paul Walker proud with this film," said Tinaj, "it was tough to watch the premiere as we all miss him!" Klement Tinaj shared the screen with the famous action stars Jason Statham, Dwayne Johnson and Tony Jaa, who never disappoint their fans.
#2 He makes a pretty convincing detective and means serious business in "4Got10"
Klement Tinaj just finished filming "4Got10" directed by Timothy Woodward Jr, featuring Hollywood action stars Dolph Lundren and Danny Trejo. Tinaj plays the role of the "Detective". Vivica Fox, Michael Paré and Johnny Messner also star in this action thriller. The movie is currently in post-production, to be released in 2016.
#3 He can cozy up to a romantic role and steel your heart away
Klement Tinaj is charming, and he can play the eternal romantic hero who can steel your heart away. Just as he can be a cool and tough guy doing street car races, or be an action hero to defend justice, Tinaj can also embody the good guy and the romantic loyal image. He brings the right emotional color to the production.
In the action thriller film "Last Chance" (2015), Klement Tinaj (playing Leo) cozies up with Paula Meilli (as Jessica) for a hot romantic scene. Starring Klement Tinaj, Paula Meilli, Jean Hyppolite , Robert Factor, Shawn Roth , and Adam Ohl, "Last Chance" is directed by Lin Zhao, written and produced by Klement Tinaj, cinematography by Alister Conway.
#4 He is highly skilled as a martial artist
Klement Tinaj has mastered the discipline of Tae Kwan Do. He trained with Master Ho Lee in his Tae Kwon Do Academy in Yonkers, New York for four years. In March 15, 2008 he won the Inter School Tournament in Sparing, Forms and Breaking. He also won three gold medals. Klement Tinaj has performed several Tae Kwon Do demonstrations with his master in New York. He also competed in the Tae Kwon Do Championships in October 2011 and won the second place.
After years of training and obtaining a black belt, Klement Tinaj teaches Tae Kwan Do to students at different levels. He taught Art of Combat for New York Educational Theatre Festival in 2012 hosted and sponsored by The American Academy of Dramatic Arts in New York and Los Angeles.
#5 Tinaj is an experienced Stunt Coordinator & fight choreographer
Klement Tinaj is an expert, highly trained in various forms of combat, and he also does his own stunts for films. Tinaj fight choreographed the play "Some Kind of Love Story", written by Arthur Miller. He was the stunt coordinator for both films "Helping Hand" (dir. Lin Zhao) and "Last Chance" (dir. Lin Zhao).
On 28 March 2015 Klement Tinaj was invited as a special guest artist along with assistant and partner Roman Xing, to demonstrate the art of combat at the Californian Festival, held in Upland, California. They gave a live performance of stunts and stage combat.
#6 He is a triple threat: Actor, Producer and Director
Klement writes as well in addition to playing lead roles ("Good Night and Good Luck", "My Diseased Love", "Have You Ever Thought…?") and appearing in major movies such as "Fast & Furious 7", "The Second Coming of Christ" and "4Got10". He was the producer of the film "Still Meadows" and the director & producer of the play "Some Kind of Love Story".
Klement Tinaj acted, produced and co-wrote "Helping Hand" with George McGrath who was nominated for an Emmy Award "Pee-wee's Playhouse in 1986." He also wrote, produced and starred in "Last Chance" directed by Lin Zhao. Both films will premiere in New York City on April 12, 2015 at Producer Club Theaters, 6:00 pm (www.klementtinaj.com).
#7 He loves theatre and is a playwright
Klement Tinaj wrote and directed an original two-act play, a play that promises to "take the audience on a journey to a by-gone era." Starring the talented cast, namely Roman Xing, Alina Smolyar, Kayla Eva, Melissa Carvajal and Leandro Simozza the play will open in the heart of Hollywood and travel around Los Angeles in May 2015.
#8 Yes he can play multiple roles in a single production
That is the kind of genius and creative artist Klement Tinaj is. He can embody multiple roles in one production. He is that convincing! In the play "Aladdin" the director chose Tinaj for two parts "Prince" and "Drummer". In the children's play "Dora" he stood out for his dual role of "Drum" and "Band".
#9 Klement Tinaj can also sing and write songs
Klement Tinaj loves performing music and sings Albanian folk music. He has debut two singles ("Pa Mua", "Leila, Leila"). Singing is his hobby, however his number one passion is acting.
#10 He brings a fresh image on the American cinema screen
Klement Tinaj is spontaneous, fresh and authentic. Klement Tinaj has certainly proved his star potential in the last few years. He is capturing the attention of famous Hollywood filmmakers. With his talents, charm, charisma, ambition and gifted skills Tinaj keep audiences and critics wanting more. He has a captivating spirit and has proved himself as an actor, producer, director and martial artist. Klement Tinaj is a true star in the making! He is one to keep out an eye out for sure in 2015.