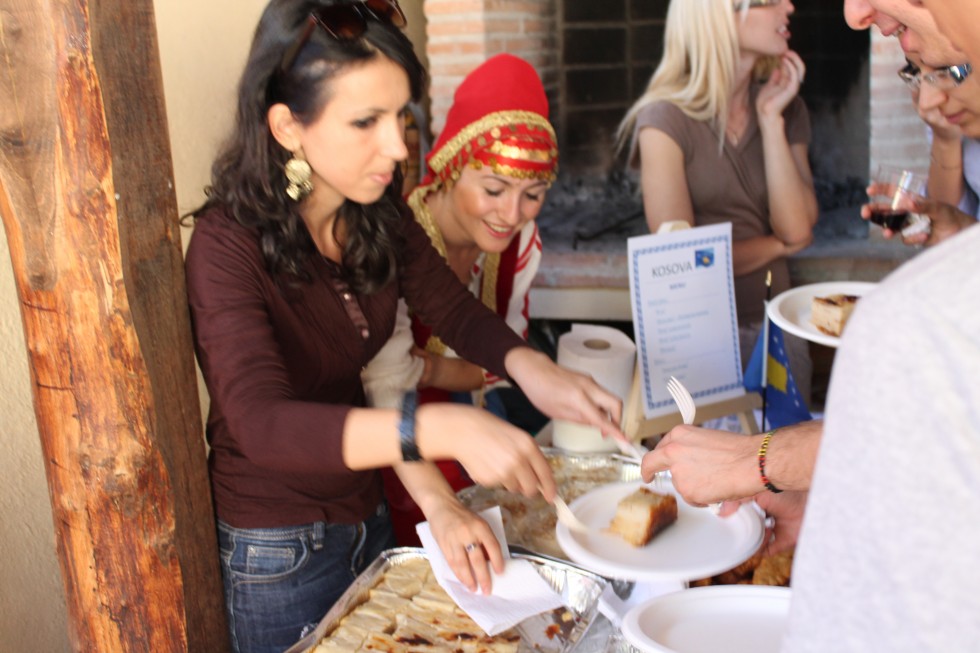 Young Scholars From Kosovo: Studying At Univeristy Of Perugia
By: Kosovo Diaspora June 27, 2013
The University of Perugia, one of the oldest universities in Italy and Europe, has hosted around fifty Kosovo students from Gjilan and Ferizaj as part of an initiative started by  Don Sandro Sciaboletta, a Catholic priest from Trini, Italy,  and a great friend of Kosovo. 
The University of Perugia is well-known in Europe, and was ranked as one of the top ten universities in Italy. The city of  of Perugia has a long academic tradition, and attracts a lot of students worldwide. Particularly, the University of Foreigners is located in Perugia, and brings together students from all over the world interested to study Italian language and culture. A group of students from Kosovo are among the many internationals living and studying in Perugia. The presence of representatives of the newborn and small country, Kosovo is visible in this prestigious university. These students attend different faculties such as that of Medicine, Economy, Political Sciences, Engineering, Sciences of Investigation and Security, Pharmacy and Faculty of Communication. Many of them graduated and now are pursuing their postgraduate studies, either at the Master or PhD level in Italy or Europe.
The community of Kosovo students that continues to study in different faculties at the University of Perugia went there through a project initiated by Don Sandro Sciaboletta, a Catholic priest living in Terni. He has a special relation with Kosovo and its people. Don Sciaboletta has provided shelter to some families from Kosovo during the war, and was profoundly impressed with the cultural values, and the courage of his guests. He decided to visit them in Kosovo after the war, and the project to bring bright Kosovo students to the University of Perugia  came to fruition. Don Sciaboletta first made it possible for the children he hosted during the war to go to the university. Later he extended the program to other students with the support of Municipality of Ferizaj and Gjilan. The program selected the best students of high schools in the two municipalities.
fThe community of Kosovo students living in Umbria region has also been very active in promoting their new born country, Kosovo. They have been involved in many events presenting their cultural traditions and values of Albanians in Kosovo. They have showcased local music, dancing, literature, and cuisine. The events hosted a large number of guests with influence from the local community, from students to professionals, professors to diplomatic circles. "Promoting Kosovo in Italy," said Arbnor Ajvazi, one of the students at the university, "is very important because we not only increase the understanding about our culture and traitions with the local community, but also of the Romanian and Spanish speaking Diasporas that come from countries that have not yet recognize Kosovo's independence."