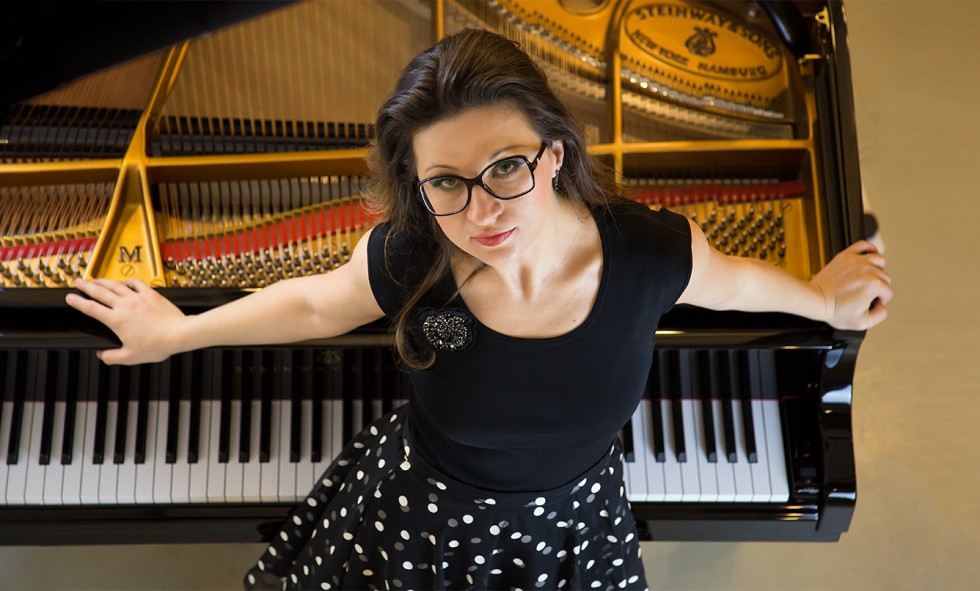 Yllka Istrefi: Talent beyond borders
By: Liza Gashi June 23, 2014
Yllka Istrefi is a talented classical pianist from Kosovo, living in London since 2001. She left Kosovo to follow her dreams and learn more from Professor Benjamin Kaplan. Yllka was awarded a Postgraduate Diploma from the Guildhall School of Music and Drama in London and completed a Master's Degree in Advanced Piano Performance at the Royal College of Music in London with Vanessa Latarche. Up to date she has had over 200 concerts and performed in many countries across the world, including festivals such as Chelsea Schubert Festival, Mozart Piano Sonata Festival and many others.  
In an interview for Kosovo Diaspora, Yllka talks about her performances and the role of diaspora.
KD: Can you tell us more about your performances?
One of the great advantages of being a performer is that you get to travel and meet lots of different people. I find it amazing that when I get invited back in some concert venues and there are people who come to hear me again and again. In April I performed at the Chopin Festival in Prishtina and going back home for a concert is always a great feeling. I also love performing in Italy; my most recent concert was near Lake Maggiore and the audience was amazing. Obviously, I feel most at home performing in the UK and am very happy to have great relations with many concert venues and promoters across the countries.
KD: What projects are you working on now?
I am working towards a few recitals here in the UK in the coming months and am preparing for a recording session, which I hope to complete during July. I am also working towards a tour of South-West England in 2015. Apart from performing, I am also a very enthusiastic runner and last month in Edinburgh I completed my second marathon in 3 hours 42 minutes, which has qualified me to run at the London Marathon in 2015.
KD: How do you see the art and culture scene in Kosovo?
I find that there is a lot of individual initiative and enthusiasm in Kosovo. There are lots of hard-working professionals who are keeping the cultural life alive. Unfortunately, Kosovo still lacks the basic conditions for proper cultural growth. It is imperative to start thinking and acting as soon as possible towards a structure that would make Kosovo compatible with the rest of Europe.
KD: What are some of the challenges you face as a pianist from Kosovo?
I don't feel that being from Kosovo has held me back in any way. Especially here in the UK, I have been surrounded by musicians from all over the world and was not much different from them. In some ways, people are more curious about where I come from, our culture and our music.
KD: How can diaspora members help better the image of Kosovo?
By integrating into the adopted culture and setting high standards for themselves. This is important because often the diaspora is the only reflection of our country that many people will see.
For more please check Yllka's Webpage